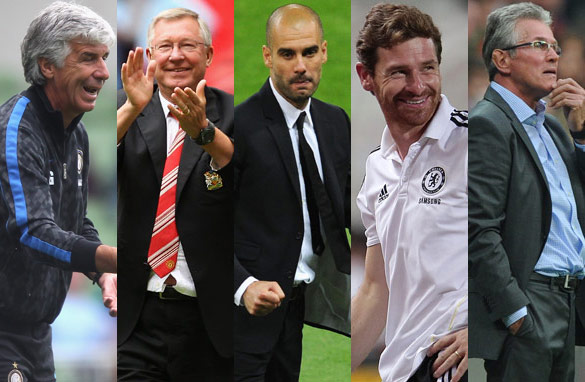 Men in charge: Gian Piero Gasperini, Alex Ferguson, Josep Guardiola, Andre Villas-Boas and Jupp Heynckes.
It's that time of year again! The new football season is upon us and below you will find my predictions on what will happen in Europe's top four leagues over the next 10 months. One thing is for sure. There should be plenty of dramatic twists and turns in England, Germany, Italy and Spain. So here we go:
ENGLISH PREMIER LEAGUE
1. Manchester United
A 20th league title beckons for United, who got better in the summer and are still the team to beat. With Rio Ferdinand and Nemanja Vidic the best central defensive partnership in Europe, the Red Devils will be solid enough to see off all of their major contenders once again.
In my mind, they still need one more central midfielder to have aspirations of winning the Champions League.
Michael Carrick and Darren Fletcher are too average for United to contend with the top teams on the continent. Alex Ferguson will hope Anderson can stay fit and focused this season. The Brazilian will be a key player if no re-inforcements (Wesley Sneijder?) are signed.
2. Chelsea
Do the Blues keep on getting older or wiser? A little bit of both, I guess. A new manager with a fresh approach will motivate some of the veterans to run harder and faster, but new faces are still needed at the Bridge if Chelsea want to win the title.
Without Michael Essien, who is injured for several months, the midfield is just too thin and too slow. Luka Modric would be an amazing signing, but if he doesn't come, then Andre Villas-Boas needs to find another creative player to run the show. Otherwise his team will be too predictable, just as they were last season.
3. Manchester City
They have the squad to be champions, but I just don't see Roberto Mancini as the man who is going to take City to the title. He keeps on buying forwards instead of improving the centre of defence. He keeps on leaving Adam Johnson on the bench.
He keeps on giving Mario Balotelli a key role, even though he hasn't matured into a star player yet. Don't get me wrong, City will win a lot of games this year thanks to the individual quality of their players, but they need to be more offensive and have a better game plan before they can dream of dethroning their rivals United.
4. Liverpool
I picked The Reds to finish fourth last year and was made to look silly. The team just couldn't get going with Roy Hodgson and flirted with relegation before recovering to finish 6th.
However, this season I really believe all the pieces are in place for Liverpool to be back amongst the big boys. Luis Suarez is an electrifying player and the signings in midfield have given manager Kenny Dalglish the necessary tools to build a solid team. Charlie Adam will surprise a lot of people, believe me. The Reds are two top defenders away from being title contenders.
GERMAN BUNDESLIGA
1. Borussia Dortmund
They are young, they are lean and they are mean. Dortmund took the Bundesliga by storm last season with a series of fantastic performances on the way to their first title since 2002, and they are ready to do it all over again. Dynamic manager Jurgen Klopp was able to hold on to most of his young stars and they will keep on shining this year. Mario Gotze will keep on getting better and if Lucas Barrios continues to knock in the goals, then they will be hard to stop. The sophomore slump will not affect these guys, take my word for it.
2. Bayern Munich
They have two world class wingers in Franck Ribery and Arjen Robben and if both of them stayed healthy, then the Bavarians would be good enough to win the title. The problem is they can never stay healthy for a whole season and their replacements are never good enough.
Bayern have improved from last year, especially in defence, but in my opinion they are still not good enough at the back to become champions. Manuel Neuer is an amazing goalkeeper and he will improve the back line, but ever since Daniel van Buyten lost his pace and his place, Bayern have not had a defensive general. And they will miss one.
3. Werder Bremen
Last year, they endured a miserable season, after dealing with one of the worse injury crisis ever seen, leading to a disappointing 13th place finish in the league. However, assuming many of their top players stay fit this season, then Bremen will be back where they feel they belong – fighting for the title. Marko Marin is one of the top attacking midfielders on the planet and he will inspire this team to a top three spot.
4. Wolfsburg
They were nearly relegated last year but this season it will be an entirely different story. With Felix Magath having had the time to rebuild the team, I expect Wolfsburg to have a very good season. Don't forget, they won the title only three years ago and many of those championship winning players are still around at the Wolkswagen Arena. Patrick Helmes was a great signing from Leverkusen and if Diego recovers his best form, then anything is possible.
ITALIAN SERIE A
1. Milan
The Rossoneri enjoyed a renaissance last season, winning the title for the first time since 2004. Almost all of the same ingredients are still in place at the San Siro and manager Maximiliano Allegri should be able to prepare another title winning recipe. Milan actually got better with the signing of Phillipe Mexes, a top defender, to fill in for the ageing Alessandro Nesta. With Alexandre Pato continuing to develop and the ageless Clarence Seedorf pulling the strings, this team will have enough quality and depth to win the Scudetto once again. This is despite Zlatan Ibrahimovic being incredibly unpredictable and Andrea Pirlo departing for Juventus.
2. Roma
A summer revolution has taken place in the Italian capital. Roma have a new owner, a new manager and surely a new system. Obviously the jury is still out on Luis Enrique, the new coach, but judging from what I have seen from him, I believe he will be the catalyst of a new winning cycle at the Olimpico. Francesco Totti is still around and he will help the transition to an era that will see fresh faces making an impact at the club.
3. Inter
So successful with Roberto Mancini and Jose Mourinho, but Inter will struggle to win the title over the next couple of years. This is a team that is getting older and many veterans are struggling to stay motivated, after recently winning everything there is to win at the club. I get the impression that president Massimo Moratti knows he has to rebuild the side and bring in hungrier players, that is why he may consider cashing in on Sneijder and even Samuel Eto'o over the next 12 months.
4. Juventus
Following a disappointing season in which they finished 7th, a lot of heads rolled in Turin. The manager, Luigi Del Neri, was sent packing and changes were also made at board level. With Antonio Conte, a new young coach who knows the club, taking over I get the impression that Juve will improve significantly this season. It will help to have an experienced player such as Pirlo calling the shots in midfield. The additions of Arturo Vidal and Mirko Vucinic also give the coach a lot more depth in the squad.
SPANISH LIGA
1. Real Madrid
Jose Mourinho has never failed to win a league title in his second season in charge at a club, and I think that streak will continue at Real Madrid. Having worked with most of his players for over a year, the Portuguese manager will have injected his winning mentality into ever single one of them. With Cristiano Ronaldo improving every day and scoring goals for fun, Real will be good enough to win their first title in four years.
2. Barcelona
It is easy to forget that Barca's players are human. They have won so much and so often that we just take it for granted. However, they are human, and they are entitled to have a season in which they fail to live up to expectations. I think the Catalans will still play fantastic football and will still challenge for the title until the last day of the season, but for some reason I just feel they won't win it this year. Xavi, Andres Iniesta and Lionel Messi just can't keep doing it day in and day out. Surely they will pick up small injuries and miss key games? And surely without them Barcelona will struggle? I still pick them to win the Champions League, but I think they will finish second in Spain.
3. Valencia
They surprised a lot of people by finishing third last season after losing both David Villa and David Silva. Led by the goals of Juan Mata and Roberto Soldado, and the scintillating midfield displays of Ever Banega, Valencia were pretty impressive. In fact, if Real and Barca weren't the two best teams on the planet, then surely in another era they would have challenged for the title? With the addition of a couple of quality players like Sergio Canales and Pablo Piatti, they should be good enough to finish third again.
4. Atletico Madrid
After a tumultuous season in which manager Quique Flores lost the plot, Atletico are ready to return to winning ways. The new manager, Gregorio Manzano, is extremely experienced, and even if they have lost Sergio Aguero, they still have a quality squad and if they play like a team they will be among the best in Spain this year. I am sure the club will spend some cash to get in another top striker and they still have Diego Forlan around. He is getting older but he is still a fantastic player. Watch out for young forward Adrian. He could be the next David Villa.