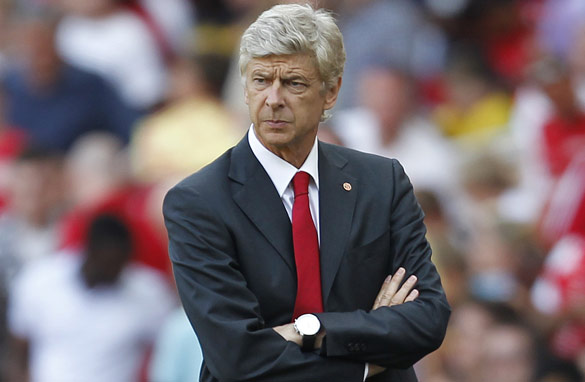 Can Arsene Wenger bring an end to Arsenal's trophy drought this season?
Doing the same thing and expecting a different result – this is one of the definitions of insanity.
Someone should tell Arsene Wenger because for some reason the Arsenal manager continues to follow a flawed masterplan. A masterplan which has now failed to yield any trophies in six years.
I really feel sorry for Arsenal fans. So much promise and so much style, yet there is so little substance, so little silverware.
For years the supporters at the Emirates Stadium have started the season with high hopes, only to see the team fall short of their expectations.
The rhetoric is always the same from Wenger: "We are growing. We are getting better. The future looks bright. I believe in these players."
Yet the result has always the same - zero trophies.
In my mind, there is one big reason why Arsenal have failed to win major titles recently. It is down to the lack of activity in the transfer market, and it looks like another summer has come and gone with the club failing to sign the players they need.
So, what do they need? An experienced centre back and a veteran midfielder. What have they got so far? A forward, Gervinho, and a young defender, Carl Jenkinson.
Sure, Ivory Coast international Gervinho will be a valuable addition to the squad, even if he doesn't fit the profile of what was needed, but I really don't understand the thinking behind getting another promising young player. Aren't there enough at the club already?
My advice to Arsene is simple. Buy big and buy now. Buy before it is too late and before you fail to qualify for the Champions League at the end of the season.
Here is a five step plan that I would follow if I was in charge at Arsenal to make sure the glory days come back sooner rather than later.
1. Sell Cesc Fabregas - The Spain midfielder does not want to play at the club anymore and that much is obvious. Last year he failed to impress and, if forced to stay, he will fail to live up to expectations. Sell him to Barcelona, for around $48 million and smile all the way to the bank. The money could help Arsenal rebuild their squad.
2. Tie Samir Nasri down to a new contract. If you let Cesc go, you can make the French international feel special by offering him a big deal and making him the focus of your team's attack. Samir was spectacular in a central role last season and should be given the keys to the engine room. Let him be creative and let him have the freedom to roam behind the striker.
3. Buy an experienced central defender. Thomas Vermaelen is a quality centre half but he needs guidance to continue developing and he isn't going to get it next to Laurent Koscielny or Johan Djourou. There are so many good defenders out there who could be signed for a reasonable fee. I am going to suggest three: Diego Lugano of Fenerbahce, Giorgio Chiellini of Juventus and Richard Dunne of Aston Villa. Three different types of player who could easily slot into the starting XI.
4. Buy a veteran midfielder. At the end of last season, Alex Song was shattered. He played game after game because the team didn't have another anchor in midfield. The Gunners desperately need an experienced hardman to cover for Jack Wilshere and Nasri. I am going to suggest three: Anatoly Tymoschuk of Bayern Munich, Paulo Asuncao of Atletico Madrid and Walter Gargano of Napoli. None of them are superstars, but they would all add mettle to a soft midfield.
5. Add tactical versatility. Recently, Arsenal have had one formation: 4-3-3. They need to have more options otherwise they are too predictable. What about a 4-4-2 with Robin van Persie and Nicklas Bendtner up front? What about a diamond formation in midfield? Wenger needs to try something different. Having no Plan B is just not good enough in modern football.
In my opinion, these five steps would allow Arsenal to reboot their system. A system which does not work now and will not work in the future – no matter how much Wenger wants it to.