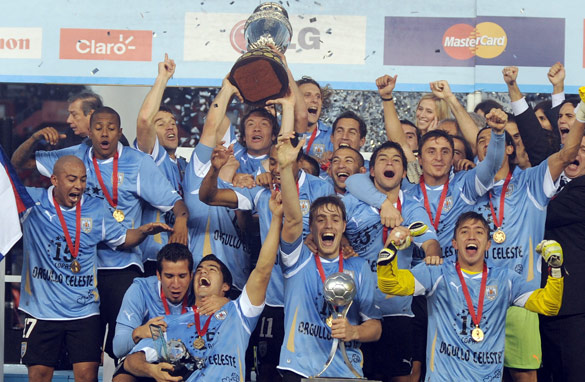 Uruguay's players celebrate after beating Paraguay 3-0 in the 2011 Copa America final.
Size isn't everything. If it was, there would be no way Uruguay could ever be as successful as it is at football. Despite a population of only 3.5 million people, the tiny South American nation has recently enjoyed a spectacular renaissance, making the semifinals of the World Cup last year and winning a record 15th Copa America title last weekend.
How has this happened? A lot of people have pointed to the fantastic performances of star players Diego Forlan and Luis Suarez. However, there is more to it than that.
The fact is "La Celeste" are a team in all senses of the word. They play as a team, they fight as a team and they win as a team. Therefore, a lot of the credit has to go to the man known as "El Maestro" - veteran manager Oscar Washington Tabarez.
Last year, when Uruguay were on a great run at the World Cup in South Africa, I had a chance to talk to one of the nation's best players of all time, Enzo Francescoli. I told him how everyone around the world was very surprised that his country had advanced to the semifinals. He told me he wasn't.
Francescoli, who worked with Tabarez at the 1990 World Cup, said that with the talent in the present squad and such a knowledgeable man at the helm, the sky was the limit for the national side. High praise from "El Principe," who said Tabarez was one of the most underrated coaches in the world of football.
What Tabarez did at the Copa America was impressive. Did you know he used every outfield player in his squad in the competition? By including everyone, he made every single player feel important, feel valuable, feel part of the cause. They responded brilliantly and exceeded expectations - in defense, midfield and attack.
It's understandable why Suarez and Forlan are getting most of the credit for Uruguay's title-winning run at the Copa. After all, Suarez scored four goals and Forlan pulled the strings in the role of playmaker. The Atletico Madrid striker also equaled his nation's all-time scoring record by hitting the back of the net twice in the final against Paraguay.
However, this was indeed a true team effort from La Celeste. There are so many unsung heroes, like captain Diego Lugano, midfielder Arevalo Rios or goalkeeper Fernando Muslera.
So what next for Uruguay? The future looks bright and, if the pieces stay in place, we could see them make a title run at the 2014 World Cup in Brazil. After all, it was at Rio de Janeiro's famous Maracana stadium where they secured one of their greatest victories of all time: a 2-1 win over the home nation to win football's biggest prize back in 1950.
So, as traditional South American powerhouses Argentina and Brazil lick their wounds following their disappointing performances at the Copa, and look to turn a new leaf, they could do worse than take a page out of Uruguay's book.
Because a team is not a collection of individuals; rather it is a solid group where everyone is working for the same cause.