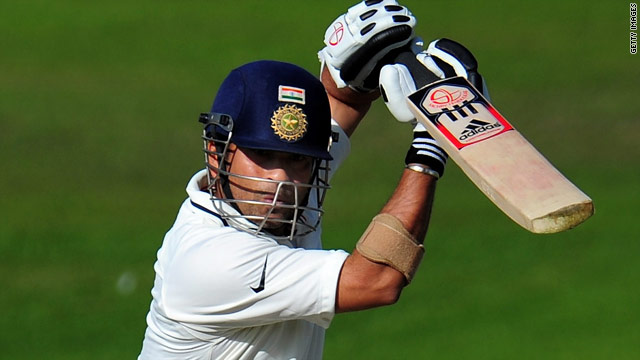 Sachin Tendulkar (pictured) has a very modest record at Lord's, the home of cricket.
Sachin Tendulkar is on the verge of making history - more history that is. The Indian batsman is tantalizingly close to scoring his 100th century in international cricket.
Tendulkar is already head and shoulders above his rivals when it comes to scoring centuries. His nearest challenger, Australia's Ricky Ponting, is some distance behind with a "mere" 69 tons to his name.
The Mumbai-born legend is playing at Lord's - the home of cricket - in the 100th Test match between his native India and hosts England. It is also the 2,000th Test match of all time.

The stage could not be better set for the "Little Master" to reach another milestone in his glittering career.
Batsmen have scored 100 centuries in the past - but not at international level. It's difficult to put Tendulkar's feat into words, this really is something special.
But is he the best batsman to walk the planet? Put simply, yes he is.
Australian Don Bradman is often talked about as the top dog –- he had an incredible international average of almost 100 –- but in most people's eyes Tendulkar is on another level, despite a more modest average of 49.71 runs.
Talking of averages, the West Indies' Andy Ganteaume tops the list at 112. But this was his only innings!
Next up is Bradman, who amassed 6,996 runs during a Test career which ended well before the advent of limited-overs cricket and the introduction to the five-day game of minor nations such as Bangladesh and Zimbabwe. Needing just four runs in his final Test innings in 1948 to achieve an average of 100, he was out before troubling the scorers - leaving him on 99.94 from his 52 matches.
By comparison, Tendulkar is playing in his 633rd international in the various formats of the modern game - more than any other cricketer. And to date he has scored an incredible 32,813 runs.
His nearest challenger, again, is Ponting, almost 7,000 runs behind.
It all started for Tendulkar in 1989 with a crunch match against Pakistan, when as a 16-year-old he made just 15 before being skittled by Waqar Younis. Since then he has gone from strength to strength.
And it's not just limited to the sub-continent where the speed and action of the ball is affected by the humidity – an advantage for home players.
Tendulkar averages 51 on home soil, as well as in Sri Lanka, but in the pressure-cooker matches against bitter rivals Pakistan it falls slightly, to 39.
His West Indies average is 47, in South Africa it's 41 and in Australia, 46.
But his best average? That's 52. In England - where he's hoping to rewrite the record books.
His only immediate problem though is his notoriously poor form at Lord's. His top score at the home of cricket is a meager 37, with an average of 21.
But even if he doesn't achieve the landmark 100th ton this match, it's only a question of time before he does.