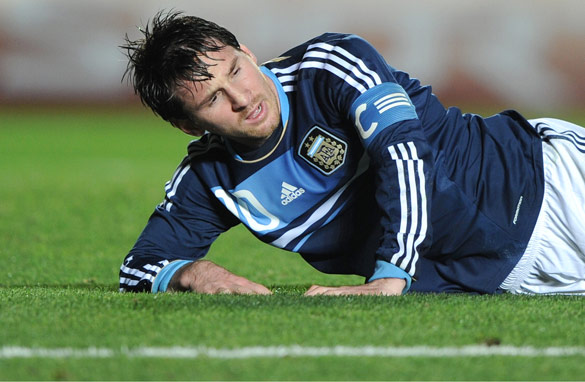 Down and out: Lionel Messi was powerless to prevent Argentina being eliminated by Uruguay.
The bigger they are, the harder they fall. South American giants Argentina and Brazil, who have won a combined 22 Copa America titles, were both knocked out of the competition over the weekend.
How did this happen? A lot of fans have been quick to point their fingers at stars Lionel Messi of Argentina and Brazil's Neymar.
However, before you do that, check out my arguments as to why the coaches are really the ones to blame.
Let's start with the hosts, Argentina. They kicked off the competition with two incredibly poor performances in Group A, a 1-1 draw with Bolivia and a 0-0 draw with Colombia. Coach Sergio Batista had to shoulder a lot of the blame. Why?
Well, he insisted on leaving the likes of Angel Di Maria, Sergio Aguero, Gonzalo Higuain and Javier Pastore on the bench when all of them ended the season on a high. Their replacements, Ezequiel Lavezzi, Carlos Tevez, Ever Banega and Esteban Cambiasso failed to shine.
Eventually, after pressure from the country's fans and media, Batista made some changes in time for a comfortable win against Costa Rica which guaranteed the side's place in the quarterfinals.
But all was not well. Even though he secured a spot in the next round, in failing to find his best XI right at the start of the competition, the coach missed the chance to solidify his side and they lost meekly on penalties to Uruguay, even though La Celeste were reduced to 10 men in the 38th minute.
You may think "Oh it's easy to blame the manager when things go wrong". But trust me, Batista has to fall on his sword for failing to find not only the best players but the best system to benefit the best player on the planet: Messi.
Now I have been saying this for years and I will say it again. Messi scores an astronomical amount of goals for Barcelona thanks to one man: Xavi.
He is the man pulling the strings and allowing the Argentine phenomenon to pick up the ball in the areas of the pitch where he can do the most damage. Argentina do not have anyone like Xavi, so obviously there would be no way Messi could score as often as he does for Barca.
However, by now, Argentine coaches should have found a system that would allow the current world player of the year to excel.
In nine games for Argentina at last year's World Cup and this year's Copa, how many goals did Messi score? Zero. Strange, but true.
Now as much as you can say that he has played badly for his country, I don't agree. He tries just as hard as he does for Barcelona and he is just as influential.
The problem is he doesn't score, and this happens because he constantly has to drop deep to get the ball and never gets it in a position where he can hit the back of the net.
Against Uruguay, Batista had Aguero, Di Maria and Higuain up front. Messi was supposed to be in the hole with two defensive midfielders behind him. Now was this the right set-up for him to excel? No.
Leo should always be part of the front three with someone feeding him the ball. Someone like Pastore, someone like Banega, someone who is creative.
As much as I respect Javier Mascherano and Javier Zanetti they are not playmakers and don't have the skill or talent to build. They are destroyers first and foremost and cannot fulfil that role.
After the defeat on penalties to Uruguay, Batista said: "I wouldn't call this a disaster." He's wrong. It was a disaster and he will be sacked soon enough. Believe me.
So, onto Brazil. The Selecao had won the last two Copa titles, in 2004 and 2007. With the next World Cup on home soil, manager Mano Menezes is working with the understanding he MUST build a team that can win the competition in 2014. His first test was the tournament in Argentina and I have to say it was a test he failed.
Now I am not naïve enough to expect that Brazil will play with the flair and skill they once did. Futebol Bonito is dead and it is more important to win than to entertain.
However, what I cannot accept is Brazil playing in a system with two defensive midfielders with all the talent they have in the centre of the park. They did it at the World Cup, with Felipe Melo and Gilberto Silva, and they did it again at the Copa, with Lucas Leiva and Ramires. If Dunga, the last coach, was fired because his brand of football was defensive and predictable, then how can Menezes follow in his footsteps?
A lot was written and said about teenage star Neymar before this event. There is no doubt in my mind he is incredibly talented, but to expect him to be the guy who is going to get you the cup is not fair. He is not that good and has not reached his full potential.
Furthermore, to ask another youngster, Ganso, to organize the team's attack when he has just come back from a serious injury and has yet to hit peak form is plain silly.
Now this Copa should be a huge wake up call for Menezes. The first thing he needs to do is find better central midfield players. The likes of Lucas, Sandro, Elias and Ramires are not good enough.
They may be hardworking, they may be disciplined, but you cannot pick two of these guys in your starting XI and expect to beat the top teams on the planet.
What about Lazio's Hernanes? What about some of the kids from the team that just won the Under-17 South American Championship? Menezes needs to find answers. Otherwise he could find himself out of a job before the next World Cup kicks off in three years time.