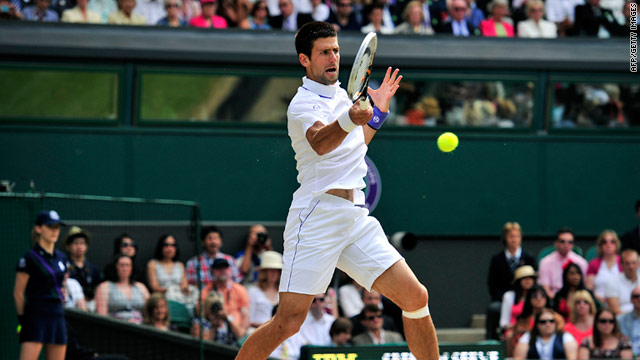 Novak Djokovic fully deserves his status as new Wimbledon champion and world number one.
We have a new men's world number one and Wimbledon champion in Novak Djokovic.
His semifinal Wimbledon win over Jo-Wilfried Tsonga was simply sensational and my favorite match of the fortnight. There was a highlight in almost every game with both men leaping about all over the place and then laughing and grinning afterwards. You simply couldn't ask for more.
There's no doubt that the likeable Serb deserves the number one title. He's been the outstanding player of 2011 and only defeat to Roger Federer in the semi-finals of the French Open has prevented him from going unbeaten throughout - a run which includes five straight final wins over former top-ranked Rafa Nadal.
Novak did to Rafa in the Wimbledon final, what Rafa does to Roger Federer, and now there's a new man in town, as Djokovic has won two of this year's three majors.
He said the Davis Cup victory at the end of 2010 gave him belief and his soaring confidence is bad news for the rest of the field!
Modest Rafa admitted before the French Open, which he won, again, that it was only a matter of time until Novak took over at the top and he was right.
He also admitted after losing on centre court that Novak is in his head. What an admission! Most professional athletes would never admit such a thing, but Rafa has always been one to speak the truth and getting that out in the open will likely help him as he can now work on correcting it, rather than keeping it bottled up inside.
Nadal also believes that Federer will win another major and said that Andy Murray will get on the board, after dumping the Scot out of the semi-finals for the second straight year.
Rafa amazes me each and every time he steps out on court. He was taking pain-killers for his foot injury but you would never know it. His body is probably aching all over, but he never shows it.
He is never beaten until the final point and when he is beaten, he accepts it fair and square and moves on. There's no moping or whining and certainly no trying to take anything away from the man that beat him.
The women's tournament was really exciting too and in 21-year-old Petra Kvitova we have a multiple major champion of the future, of that I'm sure. She is so powerful off both sides and can play on all surfaces.
2004 champion Maria Sharapova is most certainly back in the running too and that's great news for the WTA. From what I read, she is the highest-paid female athlete in the world!
Her good looks play a big part in that, but to her, what she looks like takes a back seat to how she plays.
Coaching legend Nick Bollettieri told me recently that Maria was so driven and focused when training at his Academy, that if an opponent fell down she would walk over them, rather than around them! The message? Don't mess with Maria!
Ironically, the Russian was the oldest of the four semi-finalists at the All England Club, while at this year's French Open, she was the youngest! It just goes to show how open the women's game is right now.
The two losing semi-finalists, wild-card Sabine Lisicki and 4th seed Victoria Azarenka, have great futures ahead of them. I think Azarenka will be the next first-time major winner and Lisicki has the game to challenge again.
She has made a remarkable comeback from injury, telling Pedro Pinto at Wimbledon that this time last year she was on crutches. That huge serve and happy-go-lucky spirit will take her places!
Great rivalries make for interesting viewing, and the WTA hasn't had one for a while, but what it does have a cast of characters in contention.
Should Kim Clijsters be healthy for the US Open, and the Williams sisters more match-ready, then we will be in for a real treat!