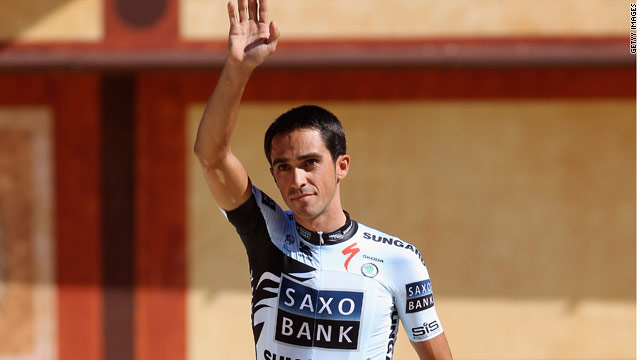 Contador received a mixed reception at the official 2011 Tour presentation.
21 stages – 3,430 kilometers - that's the challenge facing the riders at the 2011 Tour de France. No wonder it's also called the Tour of Pain! And this year, as a way of honoring 100 years of climbing the giant Col du Galibier - the participants will go up not once, but twice - with the end of the 18th stage being the highest finish in the Tour's history.
Alberto Contador and Andy Schleck are expected to be the front runners for the overall leader's maillot jeune.
Contador is one of only five riders in history to have won all three of the sport's Grand Tours, and as the world's best climber, will certainly be relishing the third and final week.
But having just won the Giro d'Italia, on a course which was arguably the toughest ever, and with a doping case hanging over him, which he denies, there are questions about the Spaniard's mindset.
I was horrified to hear that he was booed at Thursday's team presentation. As cycling commentator Paul Sherwen told me on 'World Sport,' shouldn't he be presumed innocent? If he is, and I believe he is, what a terrible experience to have? Let's hope he has a thick-skin!
Andy Schleck will take confidence from the fact that no one has been able to win the Giro and the Tour de France in the same year since the late Marco Pantani did it in 1998.
The Leopard-Trek rider finished just 39 seconds behind winner Contador last year and was the only man able to match the Spaniard in the mountains. A strong team which includes his brother Frank just might give him the boost he needs to win his first Tour at the age of 26.
Team Sky is putting their faith in 31-year-old Bradley Wiggins, who is determined to make up for a disappointing Tour last year. He finished fourth in 2009 and won the prestigious Dauphine Libere warm-up this time around which points to a possible podium finish.
Only the finest athletes can win the Tour de France. It's a grueling three week journey, much more than just a test of endurance, and only the strong will survive.