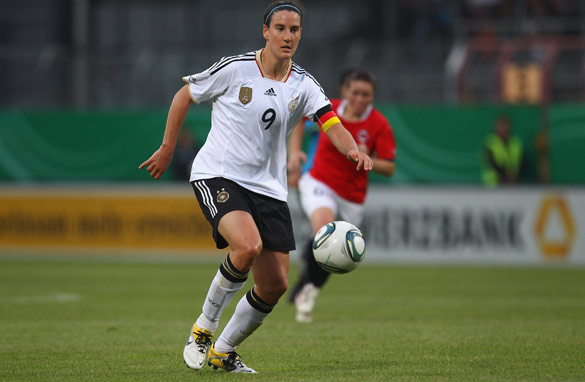 Birgit Prinz's goals could fire host-nation Germany to World Cup glory.
Some of you will scoff when I suggest you watch the FIFA Women's World Cup. Of course, the women's game is slower than the men's, and less physical overall, but it isn't any less attacking or for that matter entertaining and there will be plenty of goals (check out Monica Ocampo's long-range strike against England).
Plus, as an added bonus, there won't be nearly so much feigning of injury and time wasting - and if all that doesn't get you to watch, I don't know what will! I promise you the showpiece in Germany will surprise you, if you just give it a chance.
You've probably heard of Marta - the 5-time FIFA player of the year who has been nicknamed "Pele in a skirt" - and all-time leading World Cup scorer Birgit Prinz of Germany, but there are plenty of other world-class stars involved.
Brazil also has Cristiane who, along with Marta, forms the best strike partnership at the World Cup. Coming into Germany, Cristiane scored 31 goals in 44 international appearances.
The dynamic duo will be hard to stop as Brazil try to win the title for the first time.
The U.S., two-time champions, is the top-ranked team and, along with Germany and Brazil, are the favorites. Pia Sundhage's side arguably has the best goalkeeper at the tournament in Hope Solo.
Sweden will put their faith in forward Lotta Schelin, who scored twice in the 2007 World Cup, while veteran goal-machine Christine Sinclair is Canada's stand-out player.
The Japanese player to watch is, still, Homare Sawa, who is playing in her fifth World Cup - but Ava Miyama might just overshadow her in Germany.
England's key player is Kelly Smith, who has battled back from injury and personal problems to lead Hope Powell's team, while captain Faye White is a towering presence at the back.
Mexico have the fantastic Maribel Dominguez skippering them and 17-year-old Yoreli Rincon is likely to make some noise for debutants Colombia, while Cecilie Pederson is Norway's player to watch.
And then there's the number 10 from surprise package Equatorial Guinea - Anonman, who shocked Norway with her skill and pace in their opening group 'D' match. She's easy to recognize because of the green stripes in her hair. Go on, take a look, this girl is really special. Just like Marta.
The smart money is on Germany to win. Not only are they the hosts, but they've also won the World Cup on the last two occasions and in sharp-shooter Prinz they have a real leader, but I have a feeling Marta and Brazil will be lifting the trophy at the end of the 16-team, three-week tournament.
It's going to be fun to watch!