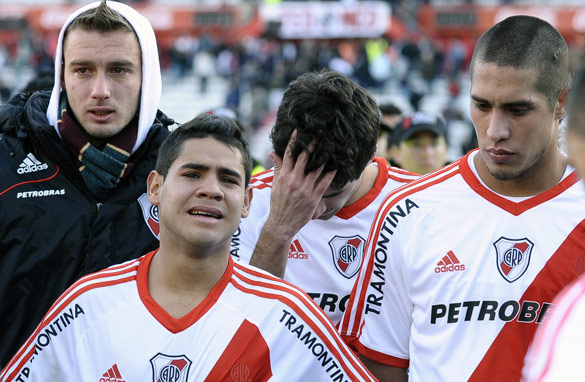 River's players stand dejected after their relegation was confirmed.
Back in 1978, when he was a star at River Plate, Daniel Passarella lifted the World Cup trophy for Argentina at the Estadio Monumental. It was at the same venue on Sunday, as club president, that he experienced the humiliation of watching Los Milionarios being relegated for the first time in their previously illustrious history.
Many of River's irate supporters have blamed their former captain and coach for the club's demise, but the reasons are rooted so much deeper. This has been brewing for a long time.
Don't get me wrong, Passarella is one of the culprits, but it would be narrow minded to point the finger at a man who has just been there for a couple of years, when for at least a decade, presidents and sporting directors have been destroying the club by selling their most prized assets and replacing them with mediocre talent, while hiring and firing coaches at an alarming rate.
There are two numbers that jump outwhen considering River's recent history: In the last three Argentine seasons, the club had six coaches and fielded a grand total 64 players. It's a ridiculous turnover and it tells a story of instability, both on and off the pitch.
If the number of managers employed was silly, as each coach had an average of only 19 games in charge, then the club's haste in selling young players before they reached their potential was simply self destructive.
Over the last six years, River has sold the likes of Javier Mascherano, Lucho Gonzalez, Gonzalo Higuain, Radamel Falcao and Diego Buonanotte, all stars who are currently shining in Europe. Granted, all are players who would have left sooner or later, but they were dispatched too early. They left before they matured and before the club found suitable replacements.
It would be naive to fail to understand that Latin American clubs need to sell players in order to make money and balance the books. However, River's policy made absolutely no sense.
While they sold solid and skilful young players, they brought in the likes of Ariel Ortega, Matias Almeyda and Marcelo Gallardo to replace them. Now these were players who may have enjoyed some stellar seasons in the past at the Monumental, but when they returned to the club, they had little to offer while commanding huge wages. Far from having a positive influence on the dressing room, they struggled to stay in shape or in form and deserted the squad when they were needed the most.
This all tells the tale of a truly tragic story. Not only because River is the most successful club in Argentina, or that we won't get to watch them play in the Superclasico against Boca Juniors next season, but because it might be a while before they come back up and because it could be a sign of things to come for more of South America's traditional powerhouses.
While in Brazil, the likes of Palmeiras and Vasco da Gama have been recently relegated, who's to say that Boca won't follow suit in Argentina? Los Xeneizes have only won one of the last six league titles and finished 12th and 7th in this season's Apertura and Clausura respectively. Like River have done, Boca have also consistently rotated managers and players without ever giving anyone a proper chance.
So this could be a crucial time for Latin America's football elite. Learn from River's mistakes or follow in their footsteps and fall into the abyss.