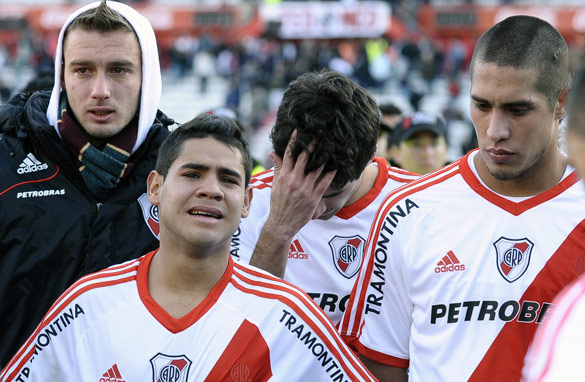 River's players stand dejected after their relegation was confirmed.
Back in 1978, when he was a star at River Plate, Daniel Passarella lifted the World Cup trophy for Argentina at the Estadio Monumental. It was at the same venue on Sunday, as club president, that he experienced the humiliation of watching Los Milionarios being relegated for the first time in their previously illustrious history.
Many of River's irate supporters have blamed their former captain and coach for the club's demise, but the reasons are rooted so much deeper. This has been brewing for a long time.
Don't get me wrong, Passarella is one of the culprits, but it would be narrow minded to point the finger at a man who has just been there for a couple of years, when for at least a decade, presidents and sporting directors have been destroying the club by selling their most prized assets and replacing them with mediocre talent, while hiring and firing coaches at an alarming rate. FULL POST