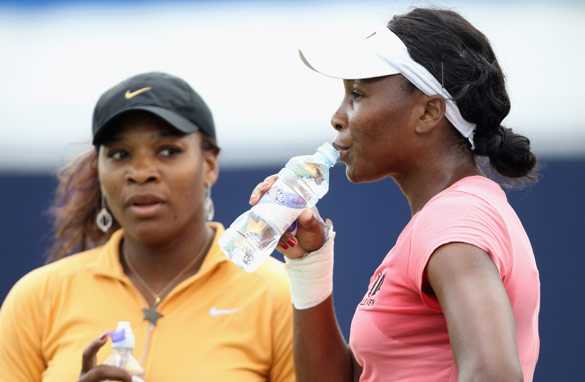 Serena (left) and Venus (right) have won the Wimbledon ladies' singles title nine times between them.
The questions about Serena Williams' continuing desire to play tennis after her near-death experience earlier this year were clearly answered with her performance and subsequent emotional outburst in Tuesday's first round match with Aravane Rezai.
I can't remember ever seeing Serena cry, but she was blubbing away both into her towel and afterwards in her post-match press conference with former CNN presenter Phil Jones, remember him?
Even when Serena loses she doesn't shed a tear (in public at least) and though I'm not one for too much emotion, it was really heartwarming to see.
Despite her trophy cabinet and bank balance being full-to-bursting, she obviously missed and loves the game, and the game loves and needs her.
Together with Venus, the sisters have added some much needed spice to the women's draw and quite a bit of intrigue. Can one of them possibly win the title after so much time off?
Many of the experts seem to think so. In fact I haven't heard a 'who's going to win' conversation on television without the mention of either Serena of Venus.
Four-time major champion Jim Courier told me on Monday that he's going for Serena, even though she was out for 11 months before returning at Eastbourne.
I happen (not that I think I'm an expert!) to think Venus will win for a 6th time.
She's had hip problems since the Australian Open in January but looks sharp and is serving well.
If she or Serena does win, some will say it's a reflection of the poor state of the women's tour. But I would argue it's because of the quality and athleticism of the Williams sisters.
If anyone can come back from months out to win, it's them.
Neither has played week in, week out, during the course of their successful careers and - having together lifted the Venus Rosewater dish nine times in the last 11 years - they both know what they have to do.
After all, comebacks are quite common in women's tennis.
Monica Seles reached the U.S. Open final in 1995 and won the Australian Open in 1996 after returning to the game from that horrific stabbing incident in 1993, while you will all remember Kim Clijsters' triumphant return in New York a couple of years ago.
And it's not like Serena and Venus have just picked up a racquet. They have obviously been practicing hard and hitting the weight-room, judging by Serena's arm muscles!
Now, both just need matches and I'm confident they will get better and better with each one.
Since they are on opposite sides of the Wimbledon draw, we might just get another all-Williams final. Would you bet against it?