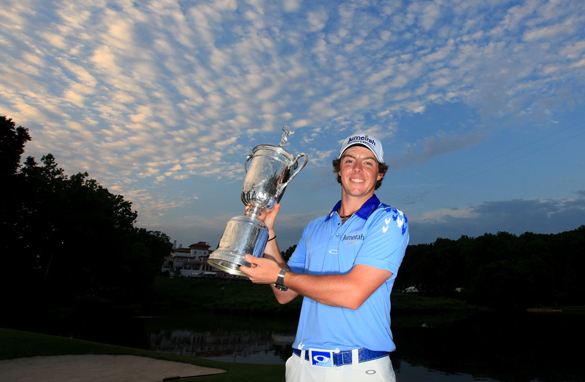 Rory McIlroy of Northern Ireland poses with the U.S. Open trophy Sunday in Bethesda, Maryland.
"Let's go Rory! Let's go Rory!"  The chants here at the Congressional Country Club over the weekend said it all.
There was a sense the 2011 U.S. Open would prove historic after Rory McIlroy posted a blistering score on the first day, but his play over the following days was sumptuous in quality and magnetic in attraction for golf fans. A fervently patriotic American crowd were charmed, amazed and captivated by the feats of the Northern Irish youngster.
His achievements with club and ball were too compelling to be ignored, his manner and mental strength - following his last-day collapse in Augusta - too admirable not to be applauded. A new golfing dynasty has surely been launched.
McIlroy first signaled his potential for true golfing greatness when he shot an opening round nine under par 63 in the first round of last year's British Open at St Andrews, and though he followed that up with an 80, a glimpse of his genius has been seen.
He shone again at the Augusta National before, in a strange quirk of fate, his final-round Masters' meltdown provided a blessing in disguise. His mental resolve following this disappoint providing surely the last piece of the champion player's jigsaw puzzle.
The 22 year old said as much. His learning curve was also enhanced by his recent trip to Haiti where he humbly admitted nobody's even heard of him there let alone see him play. That trip and all-round experience was a true eye-opener for McIlroy as he witnessed firsthand the suffering of people trying to re-build their lives in the wake of tragedy and disaster.
It gave him perspective on life, prompting him to conclude that in comparison, it really wasn't such a big deal to blow a chance of winning the coveted green jacket.
Rory said all along in the buildup to this major the disappointment of Augusta was firmly behind him, some may have doubted his resolve, but any such critics are now eating their words.
McIlroy is the heir apparent to Tiger Woods and the U.S. Open was his official unveiling. Golf's young prince is already on his way to becoming the game's undisputed king. A truly regal performance from start to finish which gave Woods plenty to ponder from the sidelines.
Tiger will one day return to the peak of his playing powers, but it is difficult to know when. When he does there's a ready-made heavyweight rival lying in wait and who isn't licking their lips in anticipation of one huge rivalry taking shape in the coming months and years. Woods currently has 14 majors to his name. McIlroy now has one. The clash of the titans is underway. Bring it on!