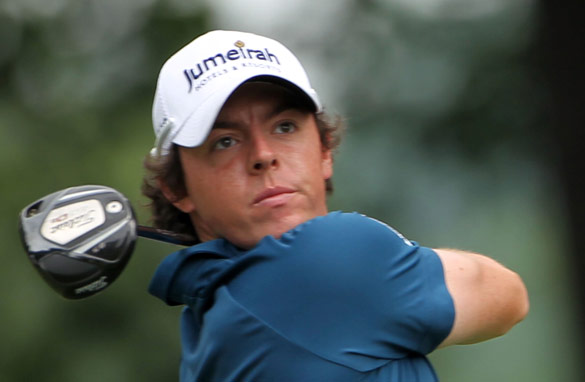 Can Rory McIlroy continue his good form at the U.S. Open enough to win?
It's a grand slam of sorts already for Rory McIlroy and the 111th U.S. Open has only just begun. With his imperious opening effort of 65 at Congressional Country Club, he has now contended in all four Majors, and all in the space of the last 11 months. Despite his notorious capitulation at this year's Masters, here is a player moving to new level in his career.
The U.S. Open is designed to find you out, to level the playing field and offer a grueling slog, where level par is the desired winning number. We only have to recall Graeme McDowell's winning performance of three over par last year at Pebble Beach and his grinding closing effort of 74 (three over par) to win the title, leaving Gregory Havret, Tiger, Ernie and Phil in his wake.
It was impressive then to see the 22-year-old McIlroy has so far shown no signs of scar tissue from Augusta. Playing alongside Dustin Johnson, who had his own disaster in this very event last year, and the five-time runner-up Phil Mickelson, the grouping is made for TV. But while the other two got beaten up by the course, McIlroy managed to hit 17 out of 18 greens, dropping no shots, and accumulating six birdies.
Assessing his performance, the Northern Irishman was keen not to get carried away by this opening effort: "I don't think conditions were that easy. I just managed to keep the ball in the fairway and find a lot of greens, and that was basically how I shot that score." Golf commentators were not quite as circumspect, with conversations on Golf.com's forums speculating a new era of Tiger Woods-like dominance is starting.
Bear in mind how difficult the set-up of a typical U.S. Open course is, typically lengthened to over 7,500 yards and change, with narrow fairways, punishing rough and fast greens with tricky pins and then consider how it was reduced by McIlroy as he went in search of birdies.
"I birdied the 12th hole, hit a 3-wood and a sand wedge just like, I don't know, six feet past the hole (471 yards). I birdied 17. I hit a 3-iron and an 8-iron to ten feet (437 yards). Then I birdied the 18th, hit a driver and an 8-iron pin high left about 15, 20 feet, holed that 523 yards!). Then hit a 3-wood and a lob wedge into the 1st to six feet (402 yards). I birdied the 4th, hit a driver and a wedge to four feet just above the pin (470 yards!). Birdied 6, I hit a driver and a 3-iron just to the back fringe maybe 15 feet and two-putted that (555 yards with water on the right of the green!)," he told reporters.
McIlroy revealed that Jack Nicklaus wanted to "kick his backside" after the implosion at the Masters, maybe come Sunday the former great will be wanting to pat McIlroy on the back following a famous win ...