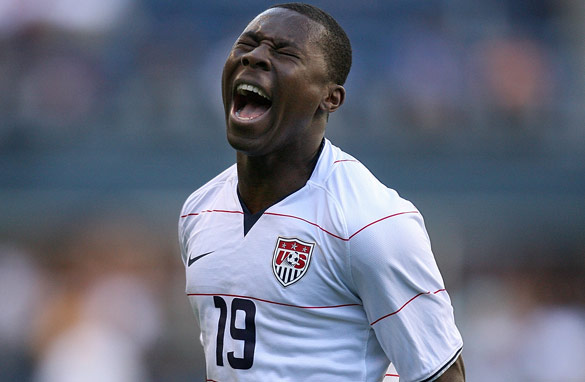 Freddy Adu was touted as the next big thing in United States soccer but has so far failed to break through.
Is it just me or should the United States be better at soccer?
With a population of over 300 million and with a large percentage of immigrants from countries where football is king, it is my belief there should be more talent in America.
When Team USA lost to Panama and then had to battle long and hard to beat Guadeloupe in the Gold Cup, I thought it was time for a reality check. To be defeated by a team ranked 67 in the world and then barely beat another not even officially affiliated with CONCACAF, the regional football body that covers North and Central America and the Caribbean, is surely not good enough.
Back in 1998, after a dismal World Cup campaign, the U.S. Soccer federation created "Project 2010", a blueprint to make the national team a legitimate football force by that year. Resources were allocated to produce talented players and give them a structure in which to excel.
Fast forward to 2011, and it is fair to say the project has failed. Team USA made the quarterfinals of the World Cup in 2002 during that period, but since then, they have failed to make their mark on the world stage. Advancing to the round of 16 at the last tournament in South Africa last year wasn't exactly what they had in mind.
As worrying as the lack of success has been for the team as a whole, equally as worrying is the failure to find a phenomenon. Landon Donovan is a very good player, don't get me wrong, but with all the sons and grandsons of immigrants from Latin America and Africa, how has the system not produced at least one superstar?
I remember all the fuss that was made around Freddy Adu. He was amazing with the American youth teams in his teens, even signing with the MLS as a 14-year-old. People in States said he had the talent to become the next Pele, but that never happened. Where is Adu these days? He belongs to Benfica of Portugal but spent the last season on loan in the Turkish second division.
In my view there is one key factor which means America will never be a force in world football, and it is quite a simple one. Soccer is not part of the country's culture. I lived in the States for nine years and although I saw many kids playing the game when they were young, they never saw it as a possible career. Most adults actually consider it to be a "soft" sport, some would even say it is a women's sport.
Men in America prefer more physical sports and often dismiss soccer as a "game for sissies." Furthermore, in the States, there are many other sports that football will never be able to compete with. American Football, Basketball, Baseball, NASCAR and golf, for example, all get more coverage and more attention than soccer.
So, if there is one thing football officials would have to do to change all of this it is to market football in a different way. They don't have to spend money bringing the likes of David Beckham and Thierry Henry to their professional league, they have to go around schools with DVDs of Cristiano Ronaldo, Lionel Messi and company and actually show them how cool the sport can be from an early age. Perhaps this could be the foundation for a new generation of footballers, a "Project 2020" if you will.
Changing the image of football will lead to changing the people who play it. The best athletes then may prefer to kick a ball rather than throw it.