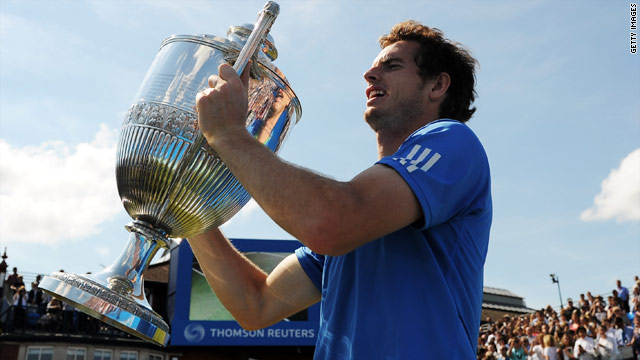 Andy Murray is unlikely to win Wimbledon this year, despite his recent success at Queen's Club.
I wonder if Andy Murray ever curses the fact that he's playing in an era with two of the greatest tennis players of all time? I suspect he does.
The Scot has all the attributes to be a major winner; he can play every shot in the book, is incredibly fit, loves a challenge and has great court-craft and intuition, but so far this total package hasn't been quite good enough.
There are transition times in tennis, just like every sport, when the better players retire, get injured or lose their edge and that's when the lesser-lights have a chance of clinching one of the big ones.
And while it's been like this for a while on the women's tour, the men's has been dominated by Roger Federer and Rafa Nadal for several years, and now Novak Djokovic has entered the fray.
So even though Murray has become the king of Queen's club for the second time in his career and is legitimately the fourth best player in the world, the chances of him ending Britain's 75-year wait for a men's singles champion at Wimbledon really aren't that great.
For the next three weeks or so, he'll be under an intense microscope. The British media will follow him everywhere and report on everything he does, but he'll have got used to that. It's literally 'Murray Mania.'
In fact, I think he does tremendously well under extreme pressure and don't believe his failure to win a major is because of a mental block.
It's just that the players who have beaten him in the three finals he has reached, have played at a different level. Take this year's Australian Open for example. Djokovic took him out in straight sets during a superb winning run in which he beat Nadal four straight times and Federer three.
Since Federer won his first Wimbledon in 2003, the three players I just mentioned have won 28 of the 32 major titles on offer. Isn't that incredible?
The four they missed went to Andy Roddick (US Open 2003), Gaston Gaudio (French Open 2004), Marat Safin (Australian Open 2005) and Juan Martin del Potro (US Open 2009).
And so, given that the Wimbledon title has gone to either Federer or Nadal for the past seven years, it's hard to see past the dynamic duo, although I do think Novak has a real shot if it stays dry!
Once again, the women's tournament is hard to predict but surely the lowly ranked Williams sisters will be major contenders despite not having played much in the past year.
Together they've held the Venus Rosewater dish aloft nine times in the last 11 years with only Maria Sharapova and Amelie Mauresmo breaking up their stranglehold in 2004 and 2006 respectively.
We must savor this year's women's Wimbledon Championship, because, not only do we have Venus and Serena back playing, but also a whole host of others in the mix with the exception of Kim Clijsters, who has withdrawn after a reccurence of her foot.
Li Na is now a major champion, while Sharapova also looks back to her best. Add to that world number one Caroline Wozniacki and the likes of Vera Zvonareva, Victoria Azarenka and Petra Kvitova, and we could have quite a tournament on our hands.
The winner, if not one of the Williams sisters, will likely have to beat either Serena or Venus en route, or even both. Not an easy task!