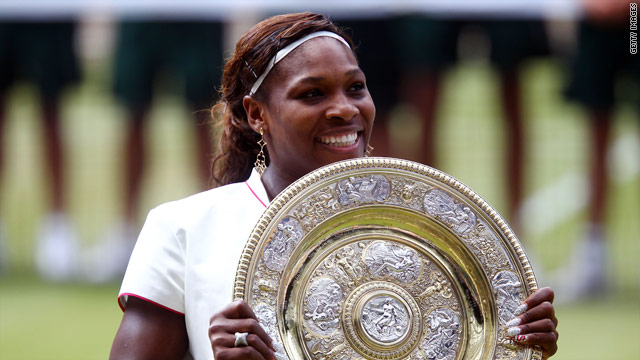 Serena Williams proudly shows off her fourth Wimbledon crown but can she win a fifth?
The news that Serena Williams is to return to action for the first time in nearly a year certainly gives added spice to the build-up to the third grand slam of the year at Wimbledon.
Williams has been sidelined since winning her fourth title at the All England Club since July, not hitting a ball in anger unless you count a money-spinning exhibition match against Kim Clijsters in Belgium in front of a record crowd for a tennis match.
But days before she had stepped on a shard of glass in a restaurant in Germany to set in course a train of events which she will want to banish to the back of her memory bank.
At first it seemed the injury was not too serious, and it did not seem to bother her during the Clijsters' match, but she then skipped the U.S. Open and further complications ruled out any hope of defending her Australian Open crown.
Skeptics still doubted the true extent of her injury as the 29-year-old seemed to be using her "downtime" to be a regular on the celebrity circuit in the States, but in late February they were silenced as Serena was rushed to hospital with a blood clot on her lung, or to use the correct medical term, a pulmonary embolism.
It was as she said later a "scary" moment and led to speculation that she had hit a tennis ball in action for the final time.
The 13-time grand slam winner though is clearly made of sterner stuff and will now return for another crack at Wimbledon glory, starting in the genteel surroundings of Eastbourne on the south coast of England.
But the big question on everyone's lips is can she ever return to her best after an injury requiring two surgeries and a medical condition that can prove fatal?
Modern day tennis requires supreme physical conditioning with any weaknesses ruthlessly exploited, so expect Serena to be given no quarter by opponents with a few scores to settle for the beatings she has handed down over the years.
There are also a new breed of stars to contend with like current world number one Caroline Wozniacki not to mention new French Open champion Li Na and the irrepressible Kim Clijsters who has won two of the last three grand slams while Serena has been sidelined.
Serena will doubtless point to the break she took through 2006 and her triumphant return the following year but that appeared more a question of motivation than battling back after a career-threatening health condition.
She was also much younger and just short of 30 is getting to the veteran stage even for a player of her incredible ability.
Having her sister Venus come back to the fray at the same tournament after a six-month layoff of her own will surely boost her morale and having won Wimbledon nine times between them, not to mention their doubles exploits, the other leading contenders will await their return with keen interest.
But ultimately reputation counts for nothing in the dog-eat-dog world of professional sport and if Serena shows just a whiff of fallibility, either physical or mental, her comeback could be shortlived.