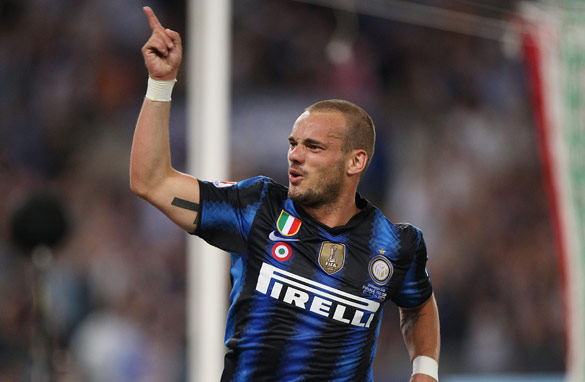 Wesley Sneijder may be looking for a new challenge after two seasons at Internazionale. (Getty Images)
Any day now I will wake up in the middle of the night in a cold sweat. It has been a week since I last watched a football game and the withdrawal symptoms will surely manifest themselves soon enough.
There is only one cure. Keep the mind busy until the Copa America kicks off on July 1. And what better way to do that than to start speculating on what major players may be moving this European summer?
Let's do it. Below is a list of the top 10 transfer targets and where they may be going.
Wesley Sneijder (Inter Milan) Attacking midfielder, 26 years old
The hottest property on the market. One of the most influential creative midfielders on the planet, Wesley can run a game with his dribbling or his passing. After two seasons in Italy where he won it all with Inter, I get the feeling he is ready for a new challenge - and there are plenty of interested parties. Reportedly he was in Manchester last week and a move to United could be on the cards. Personally I feel he would fit in better at Chelsea, but he will be a hit wherever he decides to go.
Luka Modric (Tottenham) Attacking midfielder, 25
The most consistent performer at Spurs in what was a historic season for the English club. The Croatian was fantastic during the side's debut Champions League campaign and will surely not want to miss out on Europe's top club competition next season. A move to Manchester United and Chelsea has been discussed, and he would be a great addition to either team. Luka could improve on his finishing, but his playmaking skills are second to none in the Premier League at the moment and the top title contenders have not let that go unnoticed.
Nani (Manchester United) Winger, 24
Failed to get the salary raise he was looking for, and had to play second fiddle to Antonio Valencia at the business end of last season at Old Trafford - two reasons why I think he will not be at United for 2011-12. The fact Alex Ferguson is also looking to bring in Ashley Young is another indication that Nani will have to go elsewhere to get regular first-team football. The Portugal winger is a fantastic dribbler and can score fantastic goals, but is not known to enjoy defending and needs to play in a system where he has more freedom. Has been linked with Real Madrid and would fit in well at the Bernabeu, but don't rule out a move to Italy where both AC Milan and Inter would be interested.
Zlatan Ibrahimovic (AC Milan) Striker, 29
One of the most traveled strikers on the planet, and one whose name is synonymous with success, he has won the last eight league titles with the last five teams he has played for (though two at Juventus were lost off the pitch due to Serie A's corruption scandal). After helping AC Milan win the scudetto this past season, the temperamental Swede could be on the move again. Real Madrid or Manchester City could be two possible destinations for Zlatan, considering the managers there know him well and have proven they can get the best out of him. Wherever he goes, expect spectacular goals and tempestuous tantrums.
Fabio Coentrao (Benfica) Left-back, 23
He burst onto the scene at last year's World Cup but I had already seen this wing-back in action in my hometown Lisbon, where he has played for Benfica for the last three seasons. Coentrao is as impressive attacking as he is defending, and is ready to make the leap to one of Europe's top clubs. Bayern Munich and Real Madrid have both made offers for the Portugal international, and those are two possible destinations. Personally, I don't think Real would be a good option considering Marcelo has been fantastic at the Bernabeu over the last couple of years. However, considering the fact Jorge Mendes is his agent and Jose Mourinho is the manager at Real, he will probably be playing for Los Blancos next season.
Giuseppe Rossi (Villarreal) Forward, 24
One of the most underrated forwards in Europe in my book. He scored a whopping 32 goals in all competitions this past season, and he did it playing for a team that did not challenge for honors in Spain. Villarreal had a great run in the Europa League, reaching the semifinals, but they aren't close to having the firepower of most of the top teams on the continent. He has been linked with Barcelona and would fit in well there, but he may prefer a move to Italy considering his roots and the fact he has never played in Serie A. Napoli and Juventus could be possible destinations if the Italy international doesn't move to Camp Nou.
Eden Hazard (Lille) Attacking midfielder, 20
The Belgian playmaker was probably the most important player in a Lille team that won the French league for the first time in over 50 years. His vision and creativity make him one of the most wanted players of the summer, and there is no question he will be moving to one of the top leagues in Europe. Chances are he could end up in England given that Arsenal manager Arsene Wenger is a fan and Samir Nasri has shown a desire to leave the club.
Jan Vertonghen (Ajax) Center-back, 24
The only defender that makes this list, Vertonghen is the latest in a long line of talented young players that Belgium has produced over the past three years. He was instrumental in Ajax's title-winning run in Holland, playing with a level of maturity well beyond his age. He has been linked with Arsenal, but a better move would be to a team that has an established stopper he could play next to and learn from. With Rio Ferdinand reaching the end of his career, Manchester United could be a good destination, or maybe Liverpool where he could play next to Jamie Carragher.
Samir Nasri (Arsenal) Attacking midfielder, 23
The France international created waves this past weekend when he said he would consider a move to Manchester United. I understand him because he has failed to win any silverware since moving to Arsenal, and Arsene Wenger has refused to support his creative players with the kind of physical presence they would need to excel in midfield. Nasri may be temperamental and inconsistent but he is still one of the most talented attacking players in Europe - and would be even better if he were moved to the center rather than be forced to play on the wing. If he doesn't go to Old Trafford, a move to Chelsea or Inter Milan could be on the cards.
Neymar (Santos) Forward, 19
Brazil's most talented teenager has no shortage of suitors. He has been tracked by some of the top clubs in Europe, and it is a matter of time before he makes the move. Will it happen this summer? It could. For his sake, though, I hope he doesn't move to England. With his slight frame and flamboyant dribbling skills, Neymar would be kicked off the park. I honestly don't know how long he would last before one of the Premier League's ruffians imposed their wrath on his dancing feet. The perfect move for Neymar would be to Barcelona or AC Milan, where he would have the space and the support to shine.