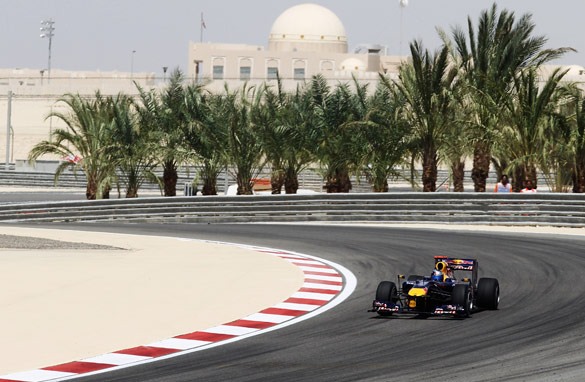 Bahrain first hosted a Formula One race in 2004 but civil unrest forced this year's event to be rescheduled. (Getty Images)
The decision to take Formula One back to Bahrain this season has prompted a heated online debate, as more than 300,000 people signed an online petition calling for the race to be scrapped.
But you'd never have known that the F1 community itself had a view on it. Twitter, normally abuzz with comments from drivers and teams, was silent on this issue all day. Red Bull's Australian driver Mark Webber was the only one to speak out, saying before the announcement: "When people in a country are being hurt, the issues are bigger than sport. Let's hope the right decision is made."
My sources within F1 tell me that many of the drivers are ambivalent, but those with a strong opinion on such a controversial issue will only speak off the record. Webber has been the exception, and he could be risking his future in F1 by saying much more.
At last week's Formula One Teams Association (FOTA) meeting in Monaco, the teams made it clear that they were against a race in Bahrain. It's now crunch time for FOTA and word from the sport's top team, Red Bull, suggests that the teams could well oppose the decision.
"We will go through the correct channels and discuss this decision within the appropriate forum with the other F1 teams and our fellow FOTA members," read a statement. It doesn't sound like champagne corks were being popped in Milton Keynes at the decision to race in Bahrain.
Quite apart from the moral implications of traveling there and being seen to endorse a country with a questionable human rights record, the season will likely be extended until at least a week into December and there may very well be insurance concerns.
One of the reasons the race was scrapped in March was because it could have been a magnet for violent protests. Bahrainis have been contacting the teams directly and asking them not to come. So is the situation much different now?
Given that there may be legitimate concerns about the possibility of kidnap, injury, or worse, who will underwrite the teams to travel with their hundreds of employees and superstar drivers?
Today's decision has been long awaited. But it could just be the beginning and not the end of the story.