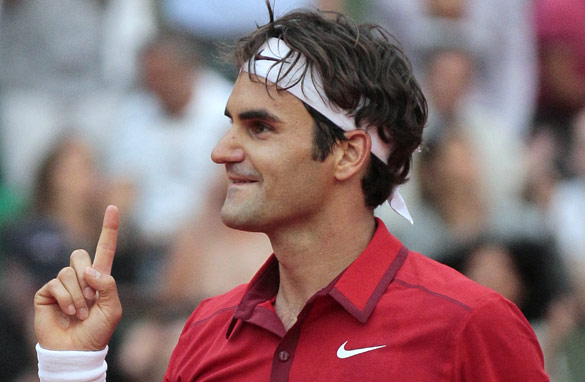 Roger Federer is hoping to beat Rafael Nadal at the French Open for the first time in Sunday's final. (AFP/Getty Images)
It's been a pretty awful week in sports, with corruption, match-fixing and bribery claims and counter-claims flying every which way, but the latter stages of the French Open have restored my faith in the world we know and love.
The top four male tennis players have shown a gulf in class once again. After a very average first week, in relative terms, world No. 1 Rafa Nadal has got better and better as he bids to equal Bjorn Borg's record of six Roland Garros titles,.
His straight-sets semifinal win over Andy Murray showed that the Spaniard is just as good as ever, despite certainly being overshadowed this year by Novak Djokovic.
I would bet the Serb would give back every single win and tournament title in 2011 (even the Australian Open, because he's won it before) to have the French Open trophy in his hands. The majors are what matter to the top players, and winning all four is the holy grail.
Both Rafa and Roger Federer have managed it, and both men want more. The Swiss, who ended Djokovic's invincibility this year in a four-set semifinal thriller, was completely written off heading into Paris and obviously enjoyed the lack of attention as he made it to the last four without losing a set.
It's no secret that he is my favorite player. I simply love the way he plays the game and the way he conducts himself both on and off the court. He is a fantastic ambassador for tennis and a trailblazer because his younger rivals are just as classy.
Some experts have announced that Roger is a spent force at the age of 29 – a claim which I find shortsighted and disrespectful. Certainly, he hasn't been as dominant as he once was, but perhaps it's because the others have upped their levels, rather than his has dropped.
His coach Paul Annacone says that Roger's desire and work-ethic are first class, and I truly believe there is much life in the old dog yet! Let's just say that judging from Friday's performance, the Fat Lady hasn't started even warming up yet!
As for the women's tournament, well it's been strange but enjoyable. Both Caroline Wozniacki and Kim Clijsters went out early and Vera Zvonareva soon followed, which left Victoria Azarenka as the highest seed remaining.
She was out-done by Li Na, who you'll recall also reached this year's Australian Open title. The Chinese player has bags of talent and personality and will thrill a billion people if she claims her first major. Her much-maligned husband (in a funny way) has been replaced as her coach by Michael Mortensen, whom she has credited with her recent success.
As for her opponent, Francesca Schiavone, well she continues to be an advertisement for the underdog. No-one in their right minds picked her to win last year's French Open, and the Italian veteran has given herself the chance of defending the title after coming back from the verge of defeat to Anastasia Pavlyuchenkova in the quarterfinals.
She is fantastic to watch as she plays with all guns blazing and has every single shot in the book – similar to four-time French Open winner Justine Henin, sadly now retired for a second time.
Maria Sharapova also had a great tournament, and though she fell to Li in the semis the Russian gave evidence that she'll be a major threat at Wimbledon, which is only a few short weeks away. I love this time of year!