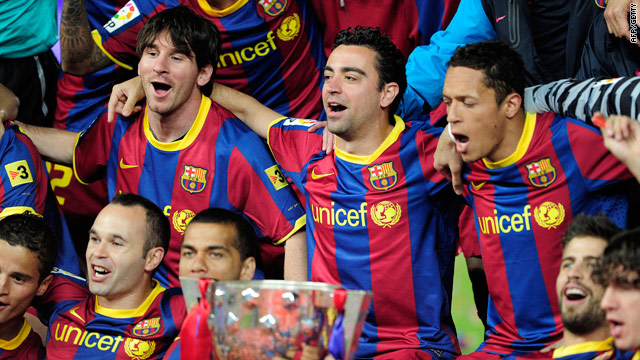 Barcelona's stars lived up to their pre-season billing by claiming a third straight Spanish title.
Every time you make a prediction, you run the risk of looking like a genius or an idiot.
Back in August of last year, I looked into my crystal ball and tried to forecast what would happen in Europe's major leagues this season. So now it's time to recap the action, see what were the big stories and what I got right and wrong.
ENGLAND
Headline:
Manchester United won 18 of their 19 home games on the way to a record 19th Premier League title. Their dismal away form was not a factor as no other team was consistent enough to challenge Sir Alex Ferguson's well assembled squad.
Told you so:
Before the season, I predicted United would be crowned champions and Arsenal would again finish empty-handed. Unless Arsene Wenger is ready to change his philosophy and tactics, the Gunners are heading nowhere fast.
Doh!
I really thought Roy Hodgson would do well at Liverpool but he was very disappointing at Anfield. I actually had the Reds finishing ahead of Chelsea in the standings. Despite a late revival under Kenny Dalglish, Liverpool never threatened to finish in the top four.
Biggest surprise:
How did West Ham stick with Avram Grant when everyone I talk to in the world of football says he is the most uninspiring manager around? They had a decent squad and had infinitely more potential than they showed this year, winning only seven matches all season.
SPAIN
Headline:
Make it three titles in a row for Barcelona as they add another case to the argument that they are the best team of all time. Leo Messi was once again fantastic as the Catalans played the best football of any side this season and comfortably won the league ahead of Jose Mourinho's Real Madrid Galacticos.
Told you so:
I had Barca winning the title and Atletico Madrid underachieving. Happy to say I got both of those predictions right!
Doh!
I thought Cristiano Ronaldo wouldn't hit the back of the net as often as the previous season, since I expected more players to share the load. Needless to say I was completely wrong about that as he set a new record with 40 goals in La Liga.
Biggest surprise:
Deportivo going down. Obviously the Galician side had struggled in recent times, failing to qualify for Europe since 2004, but I still believed they had enough talent to finish out of the drop zone. They didn't and will play in the second division for the first time in two decades.
ITALY
Headline:
AC Milan win their first title in seven years in Maximiliano Allegri's first season at the San Siro. The Rossoneri ended their rivals' Inter Milan stranglehold on the Serie A crown - the Nerazzuri had won the last five Scudettos.
Told you so:
Rafael Benitez was always going to struggle to follow in the footsteps of Jose Mourinho. Instead of keeping faith with the tactics that had worked so well for so many seasons, the Spaniard tried to put his stamp on the team and it backfired. The first signs of trouble emerged during the early defeat to Atletico Madrid in the European Super Cup. After watching this match I predicted Rafa wouldn't last long at the San Siro, and I was right.
Doh!
I had forecast that AC Milan would be too old to win the Scudetto but I was completely wrong about that. Their veteran players, like Clarence Seedorf and Alessandro Nesta, once again showed their worth and helped guide the Rossoneri to first place.
Biggest surprise:
Udinese trumped the likes of Juventus and Lazio to take the final Champions League spot. With Chilean winger Alexis Sanchez coming of age and captain Antonio Di Natale topping the scoring charts once again, the Bianconeri finished fourth thanks to a draw on the final day of the season.
GERMANY
Headline:
Borussia Dortmund won the Bundesliga title for the first time since 2002, eclipsing powerhouses Bayern Munich who failed to live up to expectations. A run of 14 wins in 15 games allowed Jurgen Klopp's side to take a big lead at the top of the standings, and his young players showed surprising maturity and class to hang onto first place.
Told you so:
While many people thought Schalke would challenge for honors this season, I was never convinced that would be the case. Their midfield was very poor and Felix Magath has always had a reputation for burning out his players with his intense management style. Raul had a good season, and obviously the club had a great run in the Champions League to reach the semifinals, but never had any kind of consistency in the Bundesliga.
Doh!
I predicted Bayern would win the title again considering the fantastic season they had in 2010, but a combination of injuries to key players and tactical mistakes by Louis Van Gaal - who paid with the loss of his job - meant the Bavarians barely managed to finish third.
Biggest surprise:
There were so many unexpected twists and turns in the Bundesliga campaign with Hanover and Mainz qualifying for Europe and Werder Bremen finishing in the bottom half of the table, but I have to go with Dortmund winning the title. Considering they had so many young players, I thought they would crumble under the pressure, but that did not happen and they deserve plenty of plaudits for their achievement