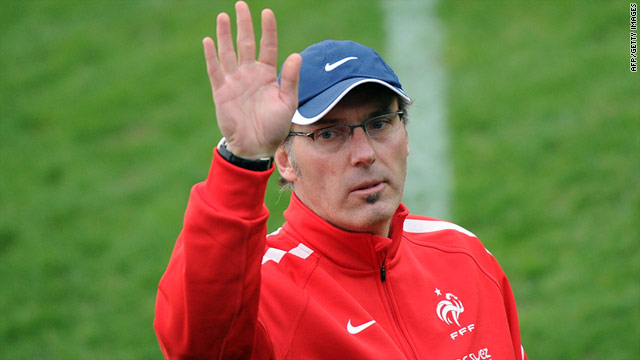 Laurent Blanc was recently at the center of a race quota row that rocked French football.
French football was recently rocked by a racial quota row which saw a football federation official suspended and national team coach Laurent Blanc interrogated by the country's sports ministry.
Both men were at a meeting where introducing a limit on the number of black and Arab players at the nation's training academies was discussed. A recording of the meeting was leaked to a website and the rest, as they say, is history.
Blanc was cleared of any wrongdoing in the subsequent investigation held by the French Football Federation (FFF), with the governing body stating it had renewed its "full confidence" in the coach of Les Bleus. Blanc himsef admitted using language that may have been "offensive to some sensibilities."
For me, there were two issues behind the headlines that are worthy of further analysis. The first being how to stop a drain of youth talent leaving the system before realizing its potential in the national side. The second, how merit should always trump race.
At a meeting held in November of last year, French football officials expressed their frustration at the number of players with foreign roots who - having shown promise at the nation's top academies - then turned their back on France, opting instead to play for countries where their parents were born.
There is a straightforward economic argument put forward by the FFF here: if a nation is investing resources into developing young talented players, many of whom represent France at youth level, it is fair to expect loyalty in return. The hope would be that they do not to turn their backs on the system they benefited from.
Sebastien Bassong is one such player the FFF may regret having lost. The 24 year old was born in France to Cameroonian parents. He showed promise as a footballer and was enrolled in the Clairefontaine Academy, arguably the best in the country. He got room and board, benefited from the best infrastructure available in France, represented France at various youth tournaments, yet when the time came to pick a country to play for, he opted for the Indomitable Lions.
The country you call your own is often a decision made by the heart, and who is to question Bassong's reasoning? However, the FFF argued there were too many cases like Bassong's, where talent nurtured in a French academy had left to represent other shores at senior level.
This trend may well be happening, and not just in France, but the notion that a racial quota could solve this is an abhorrent idea.
Merit should be the sole factor on which men are judged for national honors, not the color of their skin. Especially if you consider that racial tensions, in the national team and in France more widely, has long been an issue at the top of the news agenda.
This idea should not have been discussed. By becoming a topic of everyday conversation within the coaching team it was only a matter of time before it created controversy, as it did when leaked.
I believe the system needs to change. For example, if a player enrols in a national training program, then he should have to sign a contract to represent that country at senior level. This way, there would be no gray areas and no hurt feelings. If a young player wasn't sure of what he wanted to do, then he should try to get the development support from somewhere else. In my view this would make it fair for everyone involved.
What is strange to me is that a racial quota would even be discussed in a country like France. Their league is one of the most multi-cultural in the world, where players from their former colonies in Africa seem to thrive. Furthermore, their national team has a great history of stars with foreign roots. In the squad that won the World Cup in 1998, over half of the players selected by Aime Jacquet had parents born in countries outside France.
Maybe there is a way forward for academy systems in France and elsewhere to reform so that the amount of nurtured talent being lost is minimized. But what should remain absolute is that no-one treats selection as a numbers game which tries to balance out white and black.