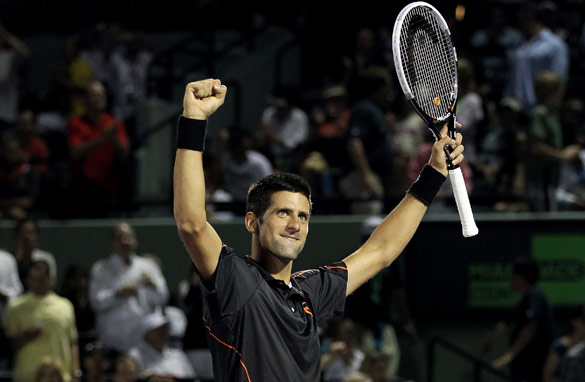 Novak Djokovic is on an incredible run in 2011 with 32 straight wins to his name.
When Pete Sampras won major title number 14, I thought nobody would ever break the record. Then along came Roger Federer.
When I thought the Swiss maestro was the undisputed greatest of all time, along came Rafael Nadal.
When I thought the Federer/Nadal rivalry would be the best of a generation, along came Novak Djokovic.
It seems men's tennis is just getting better and more interesting with every passing year!
Since the death of Seve Ballesteros on Saturday morning, the word 'inspiring' has been used frequently in the sports world. He was a golfer who managed to capture the imagination of anyone who watched. Perhaps it was his good looks, perhaps it was his prodigious talent, perhaps it was his imagination. Seve hit shots no one else would attempt.
Seve had something special and Djokovic has it too. The Serb is focused, yet entertaining; brilliant, yet normal. Although he clearly isn't, he comes across as if he's just like the rest of us.
And he has personality in spades. Remember those hilarious impressions he did of his fellow tennis stars? Yes, he earned some flak from fellow players, but the fans loved it and Djokovic knew when enough was enough.
He's since done an incredible advert on a biplane and organized the football 'match for Japan' all while going on a sensational tennis run which has seen him win six titles and edge closer to the world number one ranking.
Novak's straight sets victory over Rafa Nadal at the aptly named 'Magic Box' in Madrid was particularly impressive, as it ended the Spaniard's 37 straight wins on clay and extended his own streak to 32 victories in 2011. If you're wondering, only John McEnroe has started a season better. He won 42 consecutive matches at the beginning of 1984.
Now the Serb knows that If he wins the Rome Masters and Rafa fails to reach the semi-final then the top spot will be his – and he will begin the French Open as world number one.
Modest Rafa, winner of last year's French Open, Wimbledon and US Open titles, and with all those points to defend, is already consigned to the fact that Djokovic will pass him by, saying: "The number one ranking is not in danger, the number one has already gone."
Novak has come an awful long way. At one point not too long ago, titles were contested between Rafa and Roger and Novak was in the second tier along with Andy Murray.
But now, thanks to a new gluten-free diet, an incredible fitness level, and sky-high confidence, he has made himself the one to beat and so far, this year, no one has been able to do it.