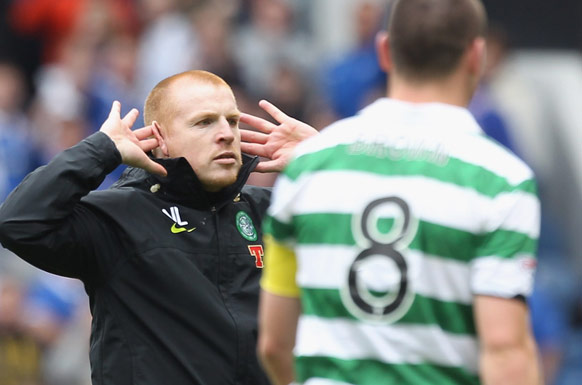 Neil Lennon, the manager of Celtic Football Club, was hit by a fan from the opposition in a recent SPL game.
The alleged assault on Celtic manager Neil Lennon, during a 3-0 victory over Scottish Premier League rivals Heart of Midlothian on Wednesday, has led to calls for change in a nation so proud of its football heritage.
European champions in 1967 and one of the two giant clubs of the Glasgow "Old Firm" alongside Rangers, Celtic are just one point from the top of the league with one game left to play. But the climax of what will surely be a dramatic end to the season, as Celtic chase their arch-rivals, has been overshadowed by unsavoury scenes.
Lennon's club issued a statement on Thursday asking for Scottish society as a whole to address "fundamental and serious issues" after confirming that another package containing ammunition had been sent to the team's home ground and removed by police. After all, it is not the first time that Lennon has been subjected to such action.
In January, another package containing bullets addressed to Lennon was intercepted in Northern Ireland. This was followed in March by what police deemed as two "viable parcel bombs" being sent to the soccer coach which were also stopped before reaching their destination.
This was at a time when Celtic confirmed their manager was under 24-hour security surveillance because of the perceived threat. Football is a game that stirs the souls of many fans around the world, but rarely does it escalate to such high stakes. And more the pity that it has now.
It is fair to say that Scotland and Glasgow have had a history of sectarian strife. The friction between Celtic - a club traditionally aligned with Catholic and Irish sentiment - and Rangers, a side proud of their Protestant and British heritage, is one that is as partisan as as it is passionate.
It is this tribalism that makes the Glasgow derby one of the most exciting atmospheres in world club football but it is also the same schism that, at its extremes, has led to scenes of violence and severe tension.
And tensions have certainly raised in recent times. European football's governing body UEFA fined Rangers $118,000 in April for the sectarian singing of its fans during a clash with Dutch side PSV Eindhoven and imposed a ticket-sale ban for one match.
The 39-year-old Lennon is certainly a fiery character who, without the backdrop of the historical rivalry between Rangers and Celtic, is more than capable of courting controversy.
Lennon angered many Rangers fans earlier this season when he gestured in a mocking fashion towards supporters as a response after Celtic's 0-0 draw at Ibrox.
Before the game with Hearts, Lennon had also been keen to show his will was unbowed in the face of recent provocation. He told reporters: "The fact that I walk out on to a football pitch seems to provoke a lot of people. Just my very presence – so I don't have to do a lot to get the juices flowing." How right he proved to be.
Real Madrid's Jose Mourinho is controversial too, but he does not need security guards to protect him against death threats. The fact remains that whatever the historical context of Scottish football, however great the rivalry between two very tribal clubs and no matter how provocative a character Lennon maybe - no coach should have to walk onto a pitch fearing for his life and well-being.
Many would forgive Lennon if he walked away to escape the firing line, but surely football's governing bodies and politicians could do more to ensure that football is played in an environment where a man who is passionate about the game can declare his religion and continue to work without fear of reprisal.