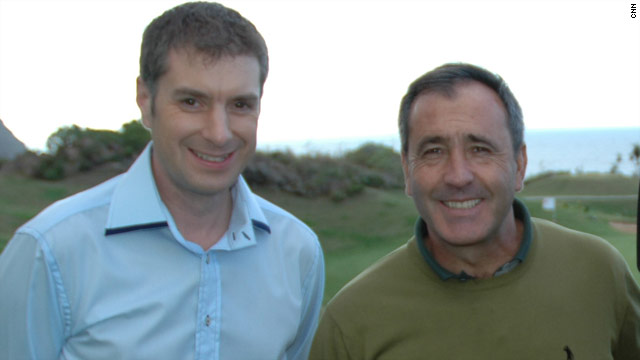 CNN's Don Riddell with Seve in Tenerife back in 2005.
We all have our heroes, men or women who have inspired or entertained us. Very few of us are able to meet these people, even fewer can say they have experienced first hand their genius and charisma.
So I consider myself incredibly fortunate not just to have met Seve Ballesteros, but to have played golf with him; to have walked a fairway beside him, bantered with and taken tips from a man that transcended his sport and made an indelible mark upon it.
Towards the end of 2005, Seve was planning a comeback. He was designing golf courses, but that wasn't enough to scratch the itch. He was missing the thrill of the chase and the roar of the crowds on a Sunday afternoon and it was for that reason that I got the chance to meet him in Tenerife in December.
Unfortunately, Seve was running late and he said he was too tired to record an interview that afternoon. All he wanted to do was relax on the golf course. Would we mind if we did an interview as we played? Would we mind?! Of course not!
And so I found myself standing on the tee, next to a living legend, dithering over a choice of clubs and praying that I wasn't going to embarrass myself. Seve couldn't have handled it better. He gave me some tips, even gave me his driver and was very complimentary when I knocked onto the fairway.
Seve won 87 titles in a glittering career, lifting the Claret Jug at the Open Championship three times and donning the green jacket at the Masters twice. He was the driving force in European golf, leading a revival in the Ryder Cup and helping to establish the European Tour as a global force.
Seve was a pioneer and he loved breaking down barriers. He wasn't the most popular man in America when he started winning their tournaments but he loved hearing the jibes in the locker-room, "here comes the Spaniard to take all our money!"
But it wasn't just the cheques that he banked or the titles that he won; it was how he won them. Seve often took the scenic route to the hole, making shots that others couldn't even have imagined with skill that nobody else possessed.
As we approached the green in Tenerife, I discovered that my ball had come to rest just a couple of inches from a stone wall. A shot to the green was impossible, and I prepared to knock it back sideways onto the fairway. Seve was having none of it; he grabbed the wedge from my hand, turned his back to the hole and chipped it against the wall – onto the green. With a shrug of the shoulders, he returned my club. That was pure Seve. Creative, daring, brilliant.
Tragically, Seve's comeback never came to much and within a couple of years he was involved in what he described as the toughest fight of his career. Four operations and a bout of chemotherapy was no match for the cancerous tumour on his brain and he succumbed at the age of just 54.
He told me that he'd like to be remembered as man that "fought for justice and for liberty". Now that he's gone, he'll be remembered for so much more. Seve Ballesteros inspired, entertained and achieved true greatness. There will never be another and he will be sorely missed.