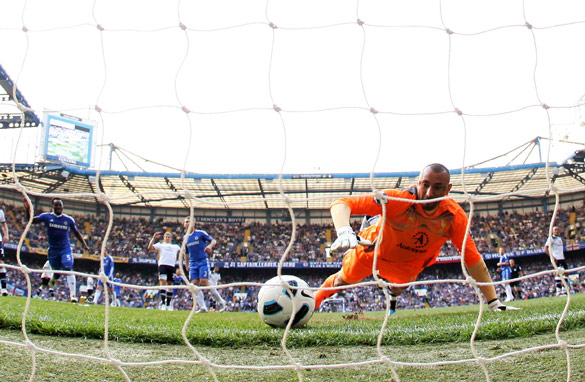 Heurelho Gomes scrambles to try and prevent Frank Lampard's shot from creeping over the line.
Events in England and Spain over the last week showed once again that football desperately needs technology in order to maintain its credibility with fans, in the present and in the future.
In the English Premier League this past weekend, Chelsea maintained their title hopes by beating Tottenham thanks to a goal that wasn't and another that was scored in an offside position.
Meanwhile, in the Champions League, the semifinal between Real Madrid and Barcelona was damaged when the match referee wrongly sent off a Real player after he had not made contact with his opponent.
How do we know the referees made the wrong decisions? Well, we had the luxury of watching countless replays from different angles on television. It didn't take long for us to realize what had happened and what the officials didn't see.
Let's start with what transpired at Stamford Bridge this past Saturday in the match between Chelsea and Spurs.
The Blues were down 1-0 when a shot from Frank Lampard was spilled by Heurelho Gomes.
The ball trickled towards the goal but was saved on the line by the Brazilian keeper. This was clear to all television viewers within seconds.
However, to the referee and his assistants, it went in. Chelsea were back on level terms with a goal that wasn't.
In the second half, with the match heading for a draw, Salomon Kalou hit the back of the net for the home side.
Again, within seconds, viewers following the game on television saw the Ivory Coast international was in an offside position when he beat Gomes.
The officials didn't have the benefit of any replay and validated the goal. Game over. Chelsea beat Spurs and moved within three points of league leaders Manchester United.
Now don't get me wrong. I am in no way suggesting that Chelsea were deliberately helped by referees in this game.
What I am saying is that the officials made two honest mistakes, like they often make in important games. Is this OK? No. Not anymore.
Something needs to be done about it in order for fans to stop feeling like they are being cheated week in and week out.
I will get into the solutions later, but first, let me present another problem which is common in football these days.
At the Santiago Bernabeu, last Wednesday, Barcelona deservedly beat Real Madrid 2-0.
There is no doubt in my mind that Pep Guardiola's team was better and I am not questioning that.
However, Barca's job was made easier when the referee sent off Real Madrid's Pepe. The Portuguese international received a red card after he made a challenge on Dani Alves.
The Brazilian defender rolled around on the ground like he had been shot, and the official gave Pepe his marching orders.
It was the wrong decision. Replays showed the Real player didn't make contact with Alves and no foul should have been awarded.
If you were watching the game on TV, I am sure you were disappointed. An intense, tough battle had been tainted.
Barcelona went on to win, with two goals from Leo Messi but as an impartial fan, I was left with a bitter taste in my mouth.
Now, the question here is not who benefited from the decision and who didn't. Contrary to what Jose Mourinho alleged, I don't believe there are any dark forces working behind the scenes to help Barcelona win the Champions League.
What I do believe with all my mind, body and soul, is that we need transparency in all decisions made by referees in the world's top competitions.
So what needs to be done?
First of all, all major continental competitions should adopt goal line technology starting next season.
FIFA and UEFA have enough money in the bank to invest in making their game a better game.
I have spoken with FIFA president Sepp Blatter various times about this issue and he has admitted that there are various systems that work.
So pick one and start using it. There is simply too much at stake for players, coaches and teams, for wrong goal-line decisions to be made week in and week out.
Secondly, instant TV replays should be tested at youth tournaments around the world and they should be adopted at the top level within the next five years.
At a time when technology helps us all in our jobs every day, why can't it help referees as well?
Perhaps teams could have three TV replay challenges to use during a game. The fourth official, who already has a monitor at his disposal, could easily make a decision within seconds.
He could review offside decisions, penalty decisions and controversial incidents at a moment's notice. There would be no need to waste too much time.
And besides, have you thought about all the time that is wasted now when players fake injuries and when they argue with referees?
In my opinion these two changes would help us all look at football in a different way. There would be less controversy, less negativity in the sport, and more discussions about what needs to be discussed: the game itself.