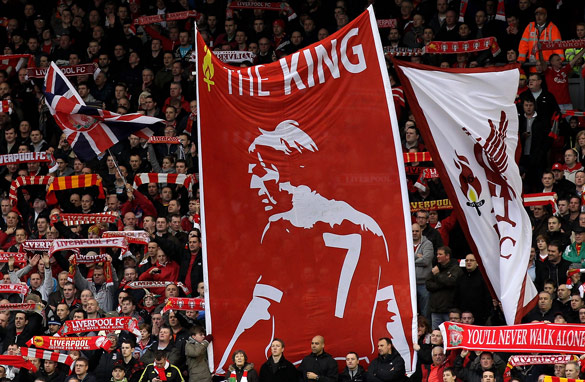 Kenny Dalglish is revered by the Liverpool fans who sit on The Kop at Anfield.
Okay Liverpool FC it's time. Caretaker manager Kenny Dalglish deserves to be handed a nice meaty contract now! What more must the King do?
Having taken over from the unpopular Roy Hodgson (who's since done very well at West Brom) Dalglish has secured 27 points from 14 league games -– and for a considerable amount of that time he's been without influential captain Steven Gerrard.
The Kop loves him, fans all around the world love him and it's obvious his players love him too. I saw that first hand at Anfield in March when the Reds crushed arch-rivals Manchester United 3-1. I must say, I quite enjoyed that victory!
Recently, even Sir Alex Ferguson said that Liverpool will be in the reckoning next season and as Kenny rightly said, Fergie is not often wrong.
What's been most impressive about Dalglish's second stint in charge has been his use of the 'kids.'
Take a look at the teamsheet for the 5-0 win over Birmingham and you'll see Flanagan, Robinson, Shelvy, Spearing and Coady -– names really only familiar to Liverpool supporters.
And these are just some of the youngsters who have either been brought through the terrific academy, or signed from other clubs before they got too expensive.
There are also 16-year-olds Raheem Sterling and Adam Morgan to get excited about, plus a whole host of others.
Former manager Rafael Benitez must be credited for the Academy's resurgence, but it's Dalglish who's had the foresight and guts to use these young men and show them that they have a future at Liverpool.
At other clubs these players are often sold on with the money spent to buy experienced talent -– but surely Liverpool's way is the way of the future.
New owners Fenway Sports Group seem to be right behind Kenny. There is money there if he wants to buy -– as he did in January when Suarez and Carroll came in – but it's not a Manchester City-type situation and the majority of Liverpool fans must surely be glad about that.
Who doesn't want to see home-grown talent come through? It's a lot more exciting knowing that these boys could be the next Gerrard, Carragher or even Owen. And good on Dalglish for bringing them to our attention.
The future at Anfield is bright and King Kenny must be in charge, permanently!