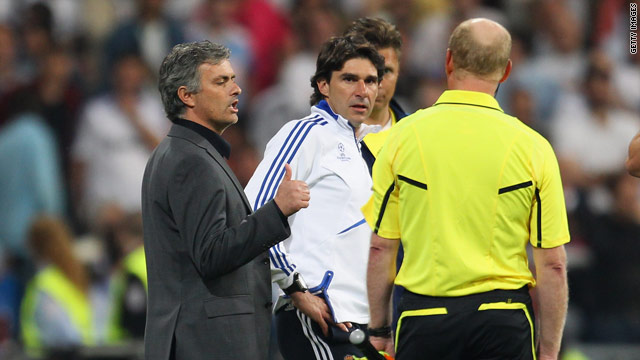 Mourinho gives an ironic thumbs up to officials after Pepe was sent off.
For broadcasters across the globe, this is Royal Wedding week - but the love hasn't spread to Spain. And another night of histrionics from Jose Mourinho can't hide the fact that his Real Madrid side are simply not as good as Barcelona.
Regular Mourinho watchers are used to seeing him hog the limelight. It's a managerial tactic, alleviating the pressure on his team, and is part of the reason why he's won cabinet-bursting numbers of trophies in Portugal, England and Italy.
However, Jose's venomous verbal onslaught on UEFA, various referees and Barca following Wednesday night's Champions League defeat by Real's Catalan rivals is finally a step too far.
Although Barcelona enjoyed 72% of the possession and completed 593 passes to Real Madrid's 140, Los Blancos' coach called his team's 2-0 defeat "a scandal." He railed against Barca's influence within UEFA, saying he felt "disgusted living in this world."
Mourinho has now crossed the divide between master of mind games and unhinged ranter.
His theatrical silence at a news conference last week prompted a walk-out by the Spanish media. And his goading of Pep Guardiola, on the eve of this match, led Barcelona's coach to uncharacteristically lose his cool, swearing twice on live television.
European football's governing body UEFA will surely react far more strongly to Mourinho's latest outburst.
He's already banned from the second leg at Barcelona's Camp Nou stadium and, at 2-0 down, Mourinho himself has labeled a Real Madrid comeback "impossible."
If that touchline ban is extended, a promising season for Los Merengues will disintegrate -– with only the King's Cup to show following the arrival of their highly-heralded Portuguese boss.
In some ways, Jose has succeeded. Many of the post-match headlines will be about his latest mega moan. Buried deep in the articles will be the fact that a bad-tempered, uninspiring match was saved in the dying minutes by a moment of football genius: Lionel Messi's second goal, his 52nd of the season.
The beauty of his stunning dribble and strike should have outweighed Mourinho's post-match media craft. It hasn't. And that is more of a shame than any of the Real coach's wild accusations.