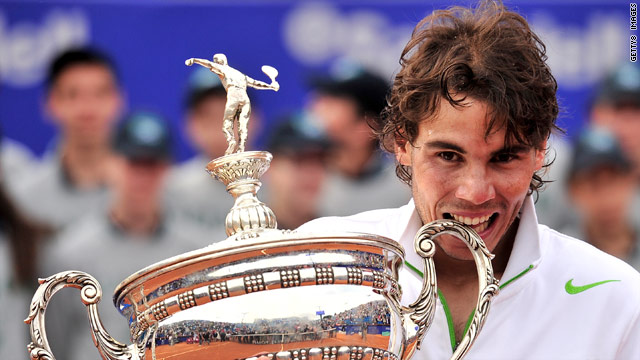 Rafael Nadal gets his teeth into his sixth Barcelona Open crown.
Another clay-court tournament, another win for Rafael Nadal.
This part of the tennis season is becoming all too predictable, with the world number one hoovering up titles in Monte Carlo and now Barcelona with imperious ease for the loss of just one set.
It was his seventh straight title in Monaco, a record which will take some beating, and sixth in seven years in the Catalan capital.
Until Rafa burst onto the scene in 2004, the clay-court swing - which culminates in the French Open at the end of May - was marked by its unpredictability, with the rankings turned upside down as specialists on the red stuff enjoyed their moment in the sun.
Gustavo "Guga" Kuerten, Albert Costa, Juan Carlos Ferrero and Gaston Gaudio claimed the crown at Roland Garros in the immediate years before Nadal first won in 2005.
The big-servers like Pete Sampras would swiftly gain revenge at Wimbledon, but clay provided the less physically gifted a more level playing surface where sheer determination and touch or artistry could go a long way.
Not anymore. Nadal is a brute of a player, who snuffs out resistance and leaves his opponents defenseless.
His game is made for clay, with a deceptive service backed up by crushing groundstrokes, most imparted with the heaviest top spin in the game. His legendary physical strength means he can hit all-out winners from parts of the court, and he can run forever.
Nadal's domination at the French Open was only halted by debilitating knee injuries which saw him lose in the fourth round in 2009 to Robin Soderling, but he returned in 2010 to mop up his fifth title and few would bet against him making it six later this month.
Before that come Masters 1,000 events in Madrid and Rome where he gets the chance to increase his lead at the top of the world rankings from Novak Djokovic and Roger Federer.
But perhaps salvation is at hand for tennis fans growing tired of the same old winner, likeable though the "King of Clay" most certainly is.
Djokovic has begun 2011 as a man on a mission, racking up 24 straight wins, claiming the Australian Open crown and the Masters 1,000 events at Indian Wells and Miami, beating Nadal in both U.S. hard-court finals.
He talks of repeating the dose on clay, but so did Federer, who for all his genius had to wait until Nadal was sidelined in 2009 to take his only French Open crown.
Djokovic is a wonderful player and blessed with a new self-confidence, but beating Nadal on clay over five sets will be some ask.
Neutrals will be willing him all the way and hoping the likes of Andy Murray, who surprised everyone and probably himself by taking that set off Nadal in the Monte Carlo semis, can also step up to the plate.
But don't hold your breath.