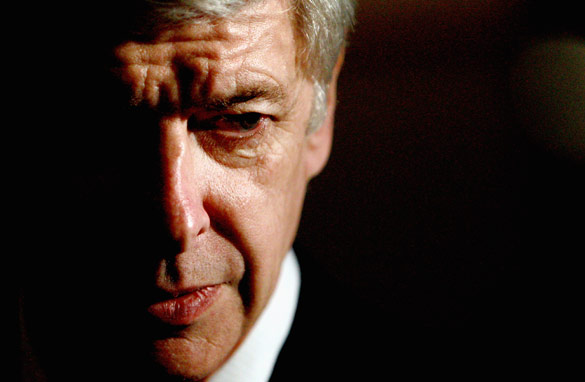 Arsene Wenger has led Arsenal to Champions League qualification in all of his 15 seasons.
So, another season, another disappointment; a thought that will be meandering around the minds of many Arsenal fans following the Gunners' capitulation to Bolton Wanderers on Sunday and the realistic end to their title challenge.
Manager Arsene Wenger, dubbed "The Professor" such is the reputation of his cerebral powers, will have more to mull over than most.
It has been six years now since the Frenchman last led his men to silverware, when a side boasting Patrick Vieira, Ashley Cole and Dennis Bergkamp triumphed over Manchester United to win the FA Cup; and such barren periods for an elite club like Arsenal offer even the most vaunted of coaches little shelter from a torrent of criticism.
The north London side have a pedigree to match many of the best clubs in world football and Wenger's early success, as well as their move to the stunning Emirates stadium, only cemented the expectation among the majority of its supporters that a team who once played a whole season without losing in the league would be champions again soon.
But the wait goes on as, sadly, another season passes where it seems Arsenal have fallen just short of greatness. In a crumbling of confidence that has become something of an end-of-season routine, Wenger has witnessed a League Cup final defeat, a last-16 European Champions League exit and now the end of the fight for the title in a matter of months.
There will be calls for the Wenger tenure to end, for the man who delivered so much to be deposed now his Midas touch has seemingly vanished. The 61-year-old is certainly in a more precarious position than a few seasons back, but to throw out the baby with the bath water would be a mistake.
The Strasbourg-born coach after all built the modern club of Arsenal. He has never failed to qualify for the Champions League in 15 campaigns, has created some of the most aesthetically pleasing sides England has known and through shrewd acquisitions and a great eye for young talent he has competed at the zenith of the division despite mid-table spending.
If there is one man who deserves a little more time to deliver at Arsenal then it is Wenger, especially if he retains the respect of the dressing room. But that is not to say he is not without fault.
For a coach so experienced with winning it has been surprising to see his body language and behaviour as the business end of the season has crescendoed. His team obviously possess the skill to be the best in the land, but a strong mental resolve is needed to turn contenders into champions - and the squad would look to their manager for this mindset. In this respect Arsene has been absent.
Alex Ferguson and Jose Mourinho are masters of dissipating pressure from their players. From their orchestrated press conferences where they exude calm and confidence, to their touchline body language and messages of motivation; time again their teams dig deep to get the result needed.
Wenger, in contrast, has looked nothing short of a desperate man. Petulant in the face of results not going his way, continually adding expectation to a team over-burdened by the demand to deliver and a picture of nervous tension on the sidelines it is no wonder the feeling of anxiety has permeated his team. For be in no doubt, Arsenal's stumble at the last was a mental choke rather than a vacuum of talent.
Wenger deserves to lead Arsenal to further glory in the future, his passion for the club is unrivalled, but he must rediscover the Zen-like qualities he was famed for when he moved to England all those years ago and leave the school-boy irascibility to the playground.