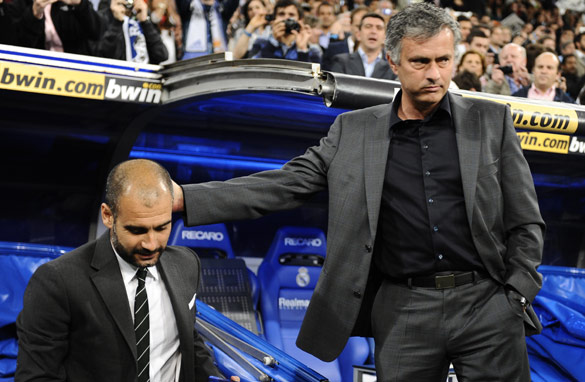 Mourinho (right) will be looking to get the better of Barcelona coach Pep Guardiola (left) in their next three meetings.
Love him or hate him, but you certainly can't ignore him. Jose Mourinho commands attention wherever he goes. He loves to be the center of attention and he proved it again before and after Saturday's El Clasico against Barcelona.
Leading up to the game, he decided not to talk to the media prompting journalists to walk out of a press conference by assistant Aitor Karanka. Following the battle at the Bernabeu, Mourinho refused to talk to reporters from the newspapers who had boycotted his colleague.
Most people may believe Mourinho says and does controversial things just to grab the headlines. That is not the case. Those who think he is a loose cannon would have it all wrong. There is definitely method to his madness.
I have watched Mourinho closely since his first season at FC Porto, and nothing that he says or does surprises me anymore.
It amuses me incredibly, but it doesn't shock me because I know this is a man who studies mind games and plays them better than anyone else around.
What we need to understand is that in his life as a coach, Mourinho is acting out a role. Ever since he started his career as a manager, Jose decided that he was going to create an alter ego who would make an impact in the world of footballl.
He decided he was going to play the role of a general who would lead his troops through thick and thin, doing everything necessary to win every battle.
Mourinho set  the tone early on in his career. Taking charge at Porto midway through one of the most tumultuous years in their recent history, he had the audacity to claim in his inaugural press conference that his team would be crowned league champions by the end of the following season.
His prophecy came true.
While his team won games on the pitch, Mourinho continued to talk a good game off it – a strategy that worked even better, perhaps, than he could have ever imagined. 
As promised, in his first full campaign not only did he go on to win the league but also added the Portuguese Cup and the UEFA Cup in what was a historic treble. In the following season, the coach added the Champions League title to his resume.
When he moved to London, Mourinho upgraded the character he was playing. Under the bright lights of the English Premier League, the Chelsea manager definitely turned his game up a notch.
Just a few miles from the West End, which is known worldwide for its plays and musicals, Jose put on a show.
From announcing that he was the "Special One" to criticizing or entertaining anyone and everyone who was in his way, he clearly became the protagonist in what was a story of success at Stamford Bridge.
Fast forward a few years and the Mourinho we see in Madrid is still very much the same.
His philosophy hasn't changed. It may have shifted slightly in order to fit in to a southern European mentality, but it is just as important as it has always been.
He may have become more dramatic and more emotional perhaps, but the games are still the same.
The role he plays is still to take most of the attention away from the players and place it on himself. As the pressure rises, so does the intensity of his actions and words, so don't expect anything to change anytime soon.
So, as the climax to Real's season approaches, what can we look forward to?
Definitely more mind games, more outrageous comments and more entertainment from the Portuguese general. He wouldn't have it any other way.