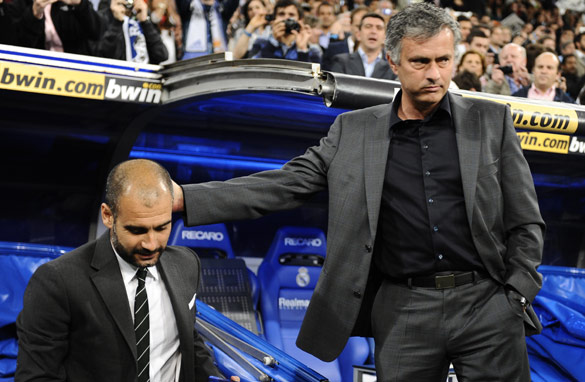 Mourinho (right) will be looking to get the better of Barcelona coach Pep Guardiola (left) in their next three meetings.
Love him or hate him, but you certainly can't ignore him. Jose Mourinho commands attention wherever he goes. He loves to be the center of attention and he proved it again before and after Saturday's El Clasico against Barcelona.
Leading up to the game, he decided not to talk to the media prompting journalists to walk out of a press conference by assistant Aitor Karanka. Following the battle at the Bernabeu, Mourinho refused to talk to reporters from the newspapers who had boycotted his colleague.
Most people may believe Mourinho says and does controversial things just to grab the headlines. That is not the case. Those who think he is a loose cannon would have it all wrong. There is definitely method to his madness.