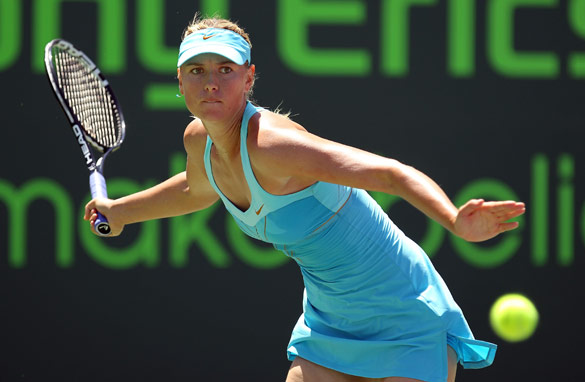 Former women's No. 1 Maria Sharapova is back in the top-10 for the first time in more than two years. (Getty Images)
Maria Sharapova's driving forehand doesn't really fill me with wonder and excitement, but I am full of admiration for her drive to succeed.
She burst onto the tennis scene as a 17-year-old in 2004, beating two-time defending champion Serena Williams in the Wimbledon final, but having reached the top of the rankings herself, her career went into decline from late 2008 after a long absence due to injury.
With her looks, physique, and bulging bank balance, the Russian could have easily retired with her three major titles in hand, safe in the knowledge that her name is imprinted in the record books and her face likely to adorn the cover of glossy magazines for years to come.
But instead of taking the easy option, she has chosen to fight through her physical problems and continue the grind on tour, with success no longer guaranteed. Ahead of her 24th birthday this month, Florida-based Sharapova has returned to the top-10 of the women's game for the first time in more than two years after reaching the semifinals at Indian Wells and the final in Miami.
A long-term shoulder injury has clearly taken its toll, especially on her much-weakened serve, but the thought of calling it a day doesn't seem to have entered her mind, even despite her impending wedding to NBA star Sasha Vujacic.
Her quest to extend her career in the hope of claiming more grand slam titles is the driving factor, and her will to succeed makes anything possible.
When she was starting out, Maria was often compared to fellow Russian blonde bombshell Anna Kournikova. She always maintained that her tennis was more important than her looks. At the time, and with endorsements piling in, many of us were skeptical. Would she be able to focus on the game with so much off-court attention?
She was, proving to us all that she possessed much more than just a pretty face. In a world where attractive women seem to have an immediate edge, regardless of ability, Maria is a shining light – a breath of fresh air.
Of course, she has garnered more sponsors than most on the WTA Tour, but prize money and titles aren't based on looks, and she's won plenty of those too – 22 tournament victories and well over $10 million in on-court earnings.
Being a professional athlete in any sport requires a life-time of focus – a dedication most of us will never understand. To be at the top, you must eat, breathe and sleep your job. It's incredibly hard. I tried it and failed, so I have the utmost respect for those who do succeed.
Sharapova has been at the top, suffered a shattering comedown, and is now slowly working her way back up.
No-one is forcing her to do it, she could retire comfortably and look back on a successful career, but instead she chooses to put in the hours and suffer a few painful defeats along the way, in order to fulfill her ambition and prove that looks can only take you so far – it's heart, drive and talent which can lead to major success.