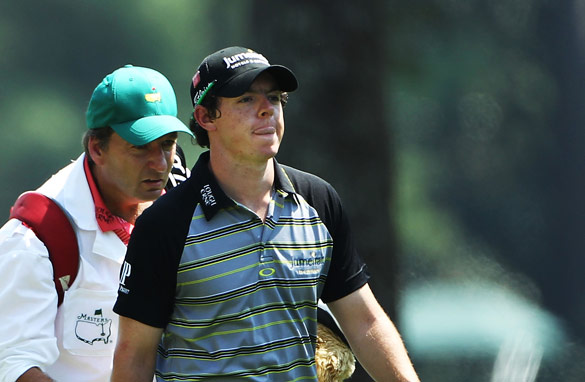 Rory McIlroy saw his game disintegrate in dramatic fashion in the final round of the Masters in Augusta.
Poor old Rory McIlroy. Any golfer with a modicum of emotion, from club hackers to seasoned pros, would have had a sympathetic thought for the young maestro from Northern Ireland, as his game crumbled in dramatic fashion in the final round of Sunday's Masters in Augusta.
Golf is a pursuit that demands mental strength and positive thinking for success - it's played 90% between the ears as the cliche goes - even at the very lowest levels of the games. If there is a player alive who has not experienced the exasperation and frustration of a how a duff shot can ruin a perfectly enjoyable day on the fairways I would like to meet him.
It's galling enough for it to happen when you are playing among friends, but in front of galleries of thousands of fans, alongside the world's best players and whilst it is being broadcast around the world to an audience of millions? That's a tough situation and a lonely place to be.
So how could it happen? How a man who hit a 65 on his first round - a shot less than Charl Schwartzel's blockbuster final-day tally - and who had led for so long see his will turn to dust over three heart-breaking holes?
Well, there is a theory, espoused by Matthew Syed in his book "Bounce: How champions are made" that McIlroy's downfall was a simple case of thinking too much. The argument goes that in sport, players excel when they are in "the zone," or more specifically when they are playing without thinking; letting their subconscious - the area of the brain that has been disciplined through years of practice - do its thing.
However, pressure can scupper this ideal scenario. When confronted with the fact that by playing nine more holes you could become Masters champion, the concious mind awakens and kicks into gear. These next few holes will be life changing, the concious thinks, so let's have more of a say on the shots we're about to hit.
And it is when the concious mind takes over that things start to go wrong. McIlroy admitted in a post-Masters interview that he could no longer see the path to seemingly easy putts once his game had started to unwind on the tenth. He was no longer in the zone, his subconscious mind was now being overruled by a rational but clearly less accurate concious.
It is this mental ability to stay in the zone that makes champions and fells cautious contenders. Such a capitulation is also something that is hard to erase from a fertile mind and can have a nasty habit of reappearing when least wanted. Just ask the likes of Australia's Greg Norman, who finished a Masters runner-up three times in equally dramatic and gut-wrenching fashion.
McIlroy will be shaken after his experience and will need time to reflect. But to use another cliche, it is vital he concentrates on the positive going forward. His talent shone so brightly for three days in Augusta he was untouchable. A 21-year-old made veterans look like school boys and such talent does not disappear overnight.
What's more, there is inspiration close at hand if Rory needs a pick-me-up. Phil Mickelson had been dubbed "the greatest player never to win a major", having finished second or third between 1999 and 2003. He seemed destined to be an eternal bridesmaid. But "Lefty" clung to a tiny, private thought; a ray of light within him that said he could one day win. And in 2004 he did, at the Augusta Masters; a victory which proved the first of three Masters triumphs over the next six years.
McIlroy can bounce back if he follows the lead set by Mr Mickelson.