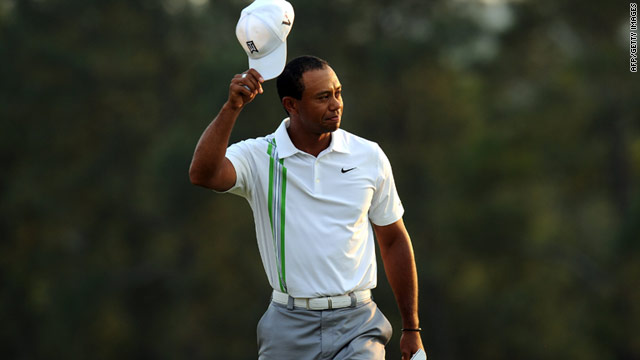 Tiger Woods is back on the prowl at Augusta.
Saturdays in professional golf are traditionally called "moving day," but it all took off in the second round here at Augusta National as the tournament stepped up several gears. And how!
Rory McIlroy slept on the joint overnight lead and came out of the blocks perfectly on Friday here at the Masters, racing to 10-under par with the ease of a veteran. That his putter didn't reward him on the back nine is an issue, for he could not have struck the ball better.
He is still atop the leaderboard, and by two shots, but it's those in his company and a few other notables behind him, who all took advantage of the conditions to stamp their mark on this hugely impressive top 10.
Both Rickie Fowler and Jason Day completed the "Young Guns" group alongside McIlroy over these two opening rounds and played second fiddle to his virtuoso lead.
On Friday, the colorful and hugely gifted Rickie Fowler stepped up a gear with a 69 to move five shots behind McIlroy with the weekend ahead, but it was Jason's Day as the 23 year-old took flight on the back nine to carve out a spectacular round of 64, after a five-under second half of 31 shots. It's the lowest second round at the Masters since 1940 and he deserves huge credit.
Fowler is the only one of the threesome to have a winless professional CV, but you get the feeling that he is very close. Having filmed him for CNN's Living Golf last week at his club in Florida, it was clear that his debut at this Masters was one to savour and after practicing there for the first time with defending champion Phil, he was up for the challenge, BIG TIME!
I expect him to move even farther forward on Saturday, as he seems due a low one. Having witnessed McIlroy's fireworks on Thursday and Day's display over the second 18, this tournament could do with another youthful injection, to add spice to the proceedings as we build towards that classic back nine on Sunday.
It is a long way to go, but consider the re-emergence of Tiger Woods at this Masters Tournament. He killed off the doubters, and there have been many, of his ability to contend this week. Nobody knows this course better that this four-time champion and his Lazarus-like arrival on the leaderboard brought this year's event to a whole new level with his nine-birdie haul when carding a fantastic 66.
Each one of his three dropped shots were immediately followed by a birdie on the front nine, but six birdies in his final ten holes were what gave this historic championship a whole new dimension.
This was the Tiger of old, patient yet aggressive, creative but steady and best of all, holing putts. Stop the Press! His eyes too, are burning with a desire to add a fifth green jacket to his collection and a 15th Major title. Given all the analysis of his latest swing change and his inconsistent form, he proved to himself above all, that something has clicked after all the hard work embedding the changes and attempting to peak for the 75th edition of the Masters.
Who could ask for more? Can McIlroy build on his impressive play? Is Mickelson due a low one or did he peak last week in Houston? Will Day or Geoff Ogilvy provide Australia with their first win in the Masters or are we witnessing the re-emergence of Tiger Woods, a full year on from his comeback?
The Masters of old is back, with plenty of help from the new, and we're all set to roar this weekend as a fascinating tournament unfolds.