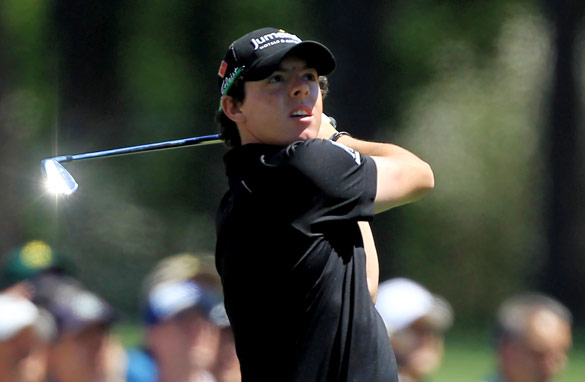 Rory McIlroy has made an impressive start to the 2011 Masters at Augusta.
I'd like to tell you that I've known Rory McIlroy since he was a little kid but I haven't, well not really.
When I first saw him play as a 13-year-old (one-handicapper) at the Hermitage Golf Club outside Dublin, in the Irish Boys Championship, it struck me that although small in stature and very boyish in looks, he was actually a man in a boy's body, playing with the authority of a seasoned veteran and clearly destined for bigger things.
It's not often that Mozart returns in the shape of a boy golfer from Holywood (pronounced Hollywood) in County Down.
But that's what happens when you win the world under-nine championship in the United States and then become a scratch golfer just weeks after your 13th birthday.
At that time McIlroy was a regular topic of conversation in his native Ulster and something of a source of fascination, given his achievements and rapid progression.
The following year he started to take flight. As Phil Mickelson was recording his first major win at the 2004 Masters, I interviewed the 14-year-old prodigy at Rosses Point in County Sligo where he was dispatching seasoned Irish internationals at the West of Ireland Championship with carefree abandon.
He pronounced that he would turn pro after the Walker Cup three years later and was so clear in his visualization of where his life was headed, that you couldn't but marvel at his self-belief.
Over the intervening three years, he added two Irish Amateur Championships and a host of other big wins against top-class opposition. Under the watchful eyes of his hugely supportive parents Gerry and Rosie, he diligently honed his craft; allowing the world to take note as he blazed a trail in the British Open at Carnoustie, where he won the Silver Medal as the leading amateur.
McIlroy duly signed on the dotted line as a tournament professional, as predicted, the day after the Walker Cup at Royal County Down in September 2007.
He was off and running, making his debut at the Masters by 19 before recording two Tour wins in just 100 professional tournaments; at the Dubai Desert Classic and then claiming a breathtaking victory at Quail Hollow in Charlotte last May where he carded a course record 62 to beat the reigning Masters champion Phil Mickelson by four shots.
Two months later, he recorded the lowest-ever first round score during the British Open at St. Andrews when shooting a nine-under-par round of 63. The ferocious winds the following afternoon taught him some harsh lessons as he returned an 80, but a solid weekend saw him finish in a tie for third behind stable-mate Louis Oosthuizen.
Another podium finish came at the following month's U.S. PGA Championship at Whistling Straits and now, a full eight months later, he stands atop the leaderboard alongside Spain's Alvaro Quiros after a blistering 65 over the Augusta National course.
Since those earliest days, McIlroy has always spoken of learning from his experiences and learning about himself. He has put his major championship education to very good use here, preparing diligently for this tilt at the Masters title.
It was easy to observe his composure here on day one and Rory now knows only too well how far more he needs to go to secure that elusive Green Jacket.
Tellingly, after yesterday's opening effort, he doesn't "think there's any position better than first ... if you're in the lead, you're in pole position."
Who's to say that he can't now go on and become the second-youngest winner of the Masters after Tiger Woods. Only Rory has the answer.