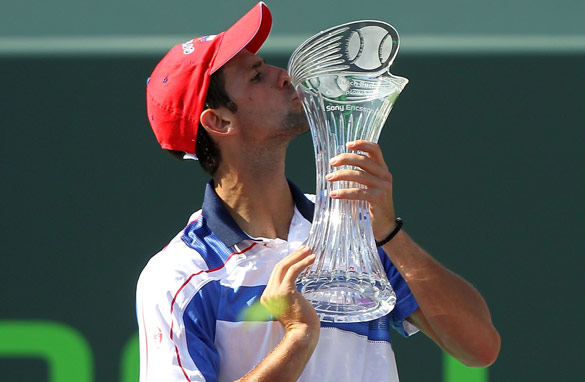 Novak Djokovic has had a formidable start to 2011 winning 24 straight matches.
Serbian tennis star Novak Djokovic's victory over world number one Rafael Nadal in the final of the Miami Masters extended his winning streak in 2011 to 24 matches.
Djokovic has now won four titles this year, including the first major of the year – the Australian Open. His winning run is impressive but it's not on my list of the best winning streaks in tennis – at least not yet!

Here are my top five:
5. John McEnroe – The seven-time major singles champion won 39 straight matches at the start of the 1984 season. The streak was snapped by Ivan Lendl in a dramatic five-set French Open final – a defeat which McEnroe says still haunts him to this day.
4. Steffi Graf – The German great had an incredible 17-year career – but her standout 12 months was in 1988 when she not only won all four major titles, but also claimed an Olympic gold medal in what is known as a 'Golden Grand Slam.' It hasn't been done since.
3. Pete Sampras – 'Pistol Pete' finished as men's world number one for six consecutive years – an amazing run, which not even Roger Federer has managed.
2. Roger Federer – The Swiss maestro was the model of consistency as he reached 23 straight major semifinals and was on top of the world rankings for a record 237 weeks in a row.
1. Martina Navratilova – If you think Djokovic's winning streak is good, imagine winning 74 matches on the bounce! Martina somehow managed it in 1984. It's the longest winning tennis streak in history and surely will never be broken!
There are so many other great tennis streaks – including Martina's six straight Wimbledon Championships and Roger Federer and Bjorn Borg's five. Federer also won five straight at the US Open while Steffi reached thirteen consecutive major singles finals!
Which are your favorite?