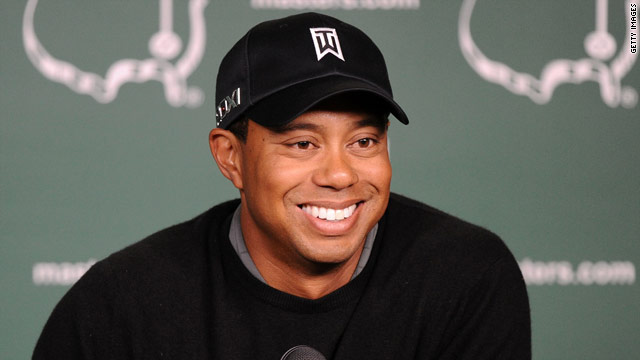 Tiger Woods was in relaxed mood at a press conference ahead of this week's Masters.
Tiger Woods may have dropped to seventh in the latest world rankings, but should he secure a priceless victory here in Augusta on Sunday evening, his return to the top will be secured.
In fairness, should any of the players ranked between two and seven - bar Paul Casey at six - don the green jacket this week then they all have a chance of reaching the summit after the conclusion of the year's first major.

Woods can NOT be discounted, swing-change or no swing change. His private life may finally be achieving the kind of balance that it needs, he told me in February, but what is undeniable is his sensational record here at Augusta National.
Woods may not have won the Masters since 2005 but consider this, in the intervening period he has finished tied third, tied second, second, tied sixth and even last year, when he was "unprepared", he finished tied for fourth.
With all the furore surrounding his return 12 months ago, to get into the mix on the final day in the way that he did was all the more compelling.
He is the greatest player of the modern era and is clearly going through a lot of changes with his swing, but admitted yesterday that he feels "almost ready to tee it up on Thursday."
With Woods slipping off his pedestal, the battle for the No.1 spot in the world rankings has never been so open and gives added spice to proceedings this week.
England's Lee Westwood assumed the top spot late last year and held onto it through the off-season, until Martin Kaymer assumed the mantle of top dog at the World Matchplay Championship in Arizona six weeks ago.
The German maintains that the world rankings are never a concern for those who play well: "The only ones who worry about them are those who begin to lose their form and play poorly," he told CNN recently.
Although surprised to be in this lofty position for one so young, he clearly enjoys his new-found stature, and is realistic about his record here at Augusta National.
He knows that it is of huge importance that he makes the cut, which he has failed to do in three previous attempts and would dearly like to record a top ten finish.
It's interesting to note that since the inception of the world rankings 25 years ago, the player in the top spot going into Masters week, has only emerged victorious five times and three of those wins were by Tiger Woods, the other two going to Wales' Ian Woosnam and the people's champion of old and still a crowd favorite here, Freddie Couples.
But for the first time since 1997, when he sensationally claimed his first major title at Augusta, Tiger Woods goes into a Masters without possession of the No.1 ranking.
Actions speak louder than words, however, and Woods knows better than any golfer, that the best way to silence any critics or doubters about his form will be with his clubs. It'll be fascinating to watch.