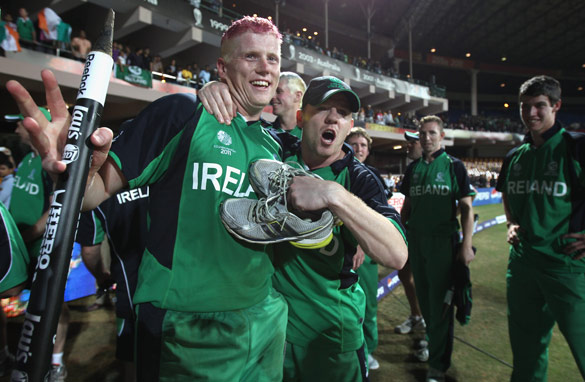 Scenes like these, after minnows Ireland beat England in the 2011 Cricket World Cup, may not be seen in the event again.
Every major tournament has its memorable moment, an occasion when the plucky underdog pulls off an unexpected victory against a giant of the game. It is all part of the unforgettable drama that only an international sporting event can produce.
The football game that goes into extra time and penalties, the fifth set in a gladiatorial tennis encounter, or the cricket match that comes down to the last ball.
It's what makes sport unpredictable, exciting and addictive.
Unfortunately it seems that is not a view shared by cricket's governing body, the International Cricket Council.
It is under the impression that it would be much more fun to ban the minnows, making sure the chance of any genuine sporting drama is reduced to a bare minimum.
The ICC has decided to reduce the number of teams at the next World Cup to just 10 - the member nations, who compete in international Tests.
This is both an insult to the countries that will be shut out, and a move that will set the game's development back for years.
Can you imagine FIFA adopting a similar approach? Even the men who want to stage football's World Cup in a desert are not foolish enough to reduce the number of matches, and therefore revenue, exposure and marketing opportunities from their prized tournament.
One of the nations being unceremoniously dumped from the competition is Ireland, a team which produced such wonderful performances in India last month, including a victory over England off the back of a fine century by Kevin O'Brien.
To add insult to injury, Ireland's successful tournament means they are now actually ranked higher in the one-day game than member nation Zimbabwe - another statistic which is clearly irrelevant to the wise men of the ICC.
The Irish authorities have used every adjective imaginable to describe their anger and frustration about the team's exclusion from the next competition. They say it will seriously damage the development of the game.
And that is the biggest crime.
The ICC has managed to turn the post-tournament euphoria into anger and recrimination. It is, in both PR and sporting terms, snatching defeat from the jaws of victory. At a time when those who run cricket should be seeking to capitalize on a wave of fresh interest in the sport, they have instead done their level best to ensure the game will suffer in the 'smaller' cricketing countries.
This negative move will hit the game harder with every passing year as fickle fans hungry for success will turn to other sports, run by organizations with smarter and more coherent strategies to engage international sports enthusiasts.