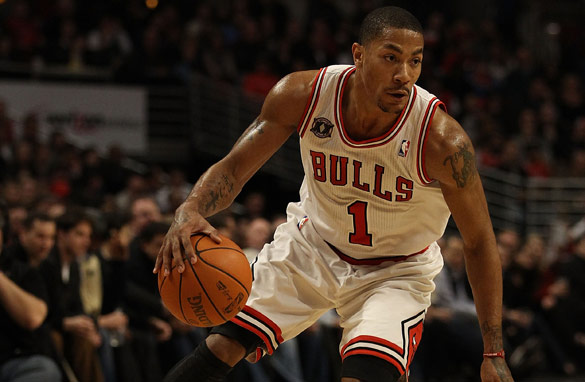 Derrick Rose, 22, has been with the Chicago Bulls since the 2008 NBA draft.
When a reporter asked Derrick Rose last September what his personal expectations were for the upcoming season, the young Chicago Bulls point guard posed a couple of questions right back: "Why can't I be the MVP of the league? Why can't I be the best player in the league?"
It was an audacious response, no doubt, but Rose was not being cocky. He is known for being one of the most humble stars in the league. It seemed as if the question genuinely got Rose to ask himself – why not me?

Best player in the league? Not a chance. Rose has a long way to go in that department with the likes of LeBron James and Kobe Bryant still playing like LeBron James and Kobe Bryant.
But becoming the league's youngest-ever Most Valuable Player award winner at the tender age of 22? That's very real. In fact, it is his to lose if you listen to most pundits - and remember, the accolade is voted on by members of the media and no one else.
There is of course a minority of hacks who disagree; who say two-time defending MVP winner James is being overlooked merely for a fresh choice. Rose is simply the new kid on the block, they argue.
After all, James averages more points, rebounds and shoots a better field goal percentage than Rose. James also leads the league with four triple-doubles this season –- games in which he had double digits in points, rebounds and assists. Rose has one.
There is just one little problem with LeBron's case. He won his last two awards with his former team –- the Cleveland Cavaliers. Without his services, the Cavs have the worst record in the league. But how can King James win the league MVP this season when he plays on a team with 2006 NBA Finals MVP Dwyane Wade? Not going to happen.
There is also an argument for Kobe Bryant, whose two-time defending NBA champions L.A. Lakers have the league's best record since the All-Star break.
But Kobe has two seven-footers at his disposal in Pau Gasol and Andrew Bynum. You can write him off too.
The Magic's Dwight Howard, the Thunder's Kevin Durant (who happens to lead the league in scoring for a second-straight season) and the Mavericks' Dirk Nowitzki are on teams that are not high enough in the standings for them to be taken too seriously. But Rose is blooming just at the right time.
Prior to this season, not even the world's biggest Bulls' fan would have dared to dream Rose would be involved in the MVP debate. In his first two regular seasons, the Bulls won 82 games and lost 82 games. Rose was known for driving to the basket, but not being a threat from long range.
Fast forward to this season and The Bulls have stormed to the best record in the Eastern Conference ahead of the defending conference champions Boston Celtics, the new-look Miami Heat and Dwight Howard's Orlando Magic.
That success has come despite Rose's two low-post teammates in Joakim Noah and Carlos Boozer missing almost 60 games combined through injury.
Rose has carried the load by missing one game all season, while averaging 25 points and almost eight assists per game. He is the only player in the NBA that is top 10 in both points and assists. Rose has also made over 100 threes this campaign after managing just 32 in his first two seasons combined.
But forget the numbers. No player in the NBA is asked to do more for his team on a nightly basis. No one. As the primary-ball handler, he brings the ball up court and distributes it to his teammates just like any point guard is asked to do.
But Rose is also the primary scorer. When he is not dishing out assists he is making a play himself, whether it's a three, a mid-range jumper or one of his trademark drives to the basket after weaving through a number of defenders.
Rose may lead the Bulls to the top seed in the Eastern Conference by season's end, but can he lead them to a first championship since the great Michael Jordan? We will have to wait and see. In the last 30 seasons only two teams won a championship with their point guards as their leading scorers –- the Lakers with Magic Johnson and the Pistons with Isaiah Thomas.
Whether Rose joins that club or not, he still should receive something from the NBA commissioner in the near future, and I bet it won't be a dozen roses.