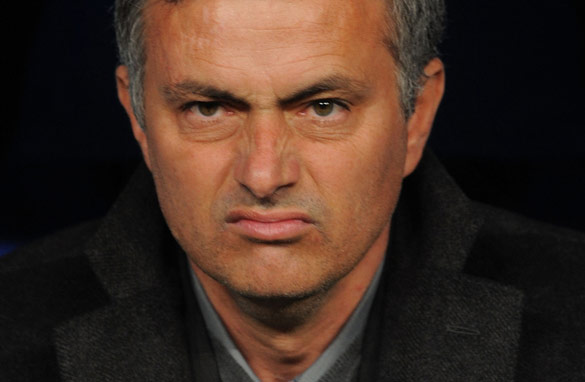 Will Mourinho's milestone ever be bettered?
Nothing lasts forever. We hear it all the time, yet I have to admit I was shocked when Jose Mourinho's home unbeaten league streak came to an end on Saturday in Spain.
This has to be hailed as one of the most impressive runs in the history of sport. He went 150 games without suffering a single home defeat in domestic championships with four clubs in four countries across nine years. No other coach in any other major sport has come close to this amazing record, and in my opinion no-one else ever will.
What makes this streak most impressive is that sport is so unpredictable and reliant on chance. The outcome of a game often depends on the bounce of a ball or the rub of the green. Sometimes it goes your way, sometimes it doesn't.
That means that as a coach, during any given game, you can only do so much to minimize the impact of those certain variables you cannot control, and it is for his work in this department that Mourinho deserves the most praise. His preparation work with his players, both tactically and psychologically, is nothing short of awesome.
Recently, I had the chance to talk to Arjen Robben about Mourinho. He told me that, in his mind, Mourinho had an unparalleled ability for being able to say the right thing at the right time to players who mattered. For every home game it seems Mourinho is able to put his players in a frame of mind where they feel unable to lose. He has always been able to convince his pupils that they are the best players on the planet, and this belief means, whether they are great or not, they play above themselves in the manner he expects.
As important as the psychological component has been to Mourinho's success, we cannot forget the tactical analysis and research done by his coaching team. For several years, his close-knit circle of scouts has analyzed and researched every player and every team they have ever faced.
Frequently, his players get documents with statistics on their opponents. Not just general statistics, but numbers and percentages of details like how many times their direct opponents dribbled right, dribbled left, made long passes, short passes, etc. In other words, he has always given his pupils the right tools to break down their opponents.
So now that this amazing streak has come to an end, let's put it into context. As far as football is concerned, in the research I did, I couldn't find any other coach who had come close.
Louis Van Gaal managed to go 43 matches undefeated at home with Ajax from 1995 to 1997, but in recent history, in all the major leagues, no-one can boast any other significant streaks. However you look at it, it is a special run by a special manager and I wager his watermark will not be bettered in my lifetime.