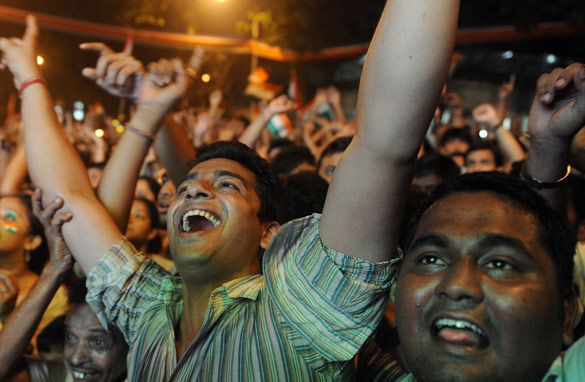 Indian fans celebrate after winning the Cricket World Cup on April 2.
India's island city of Mumbai is all about noise: a constant car-honking stream of vehicles and people. It was silenced for eight hours Saturday as the 2011 Cricket World Cup final was played, but then burst back into life to signal India's victory. Colorful explosions lit up the skyline as an astonishing number of fireworks were let off, continuing for an hour after the match.
Even after the fireworks had run out, ear-splitting firecrackers kept punctuating the gap between vehicles beeping and drums beating. We went out on to the streets to film near our hotel in Worli, south Mumbai. We saw mopeds buzzing around, mainly ridden by young men, bare-chested and faces painted, with the pillion passenger waving an India flag.
Whole communities that had gathered to watch the game together spilled out of their apartment blocks to celebrate. Some had created posters of the players and were dancing and drinking in front of them, taking photos there because they knew they couldn't get near the real team in the Wankhede Stadium across town.
At the sight of our camera, the crowd went berserk, clearly desperate to show the world what this victory meant to them. We were mobbed and groped and had to move on.
A 10-minute drive away, we spoke to an equally happy, but more sedate, group from the Sahkar Niwas apartment block in Tardeo. They were jumping for joy by the roadside after watching India's triumph on a big screen on the roof of their building.
There were more flags and many had marked their foreheads and cheeks with traditional smudges of purple. They ensured my face got painted too.
This is my first visit to India, and although I have heard the phrase "cricket is a religion" many times, you can only truly believe it when you hear the people here tell you. We have spoken to plenty of amateur cricketers playing in Mumbai's parks this week: they look you in the eye and tell you that star batsman – and local resident - Sachin Tendulkar is God with complete conviction.
The sport unites this nation of more than a billion people. Many of them couldn't even explain the leg-before-wicket rule, but for India cricket is an expression of national pride.
One resident, partying in the street, said to me that he hoped the world would now realize that India is a future superpower. Others agreed with my suggestion that this sporting success was significant enough to be Mumbai's first decent morale boost since the dispiriting terror attacks here in November 2008, which left more than 160 people dead and hundreds more wounded.
Perhaps it's is why one of the more unlikely headlines in the newspapers the next morning said simply: "Thank You" – the Sunday Mumbai Mirror reflecting the appreciation of an entire country.
It's thanks to India's captain Mahendra Singh Dhoni - or Midas Singh Dhoni as he's been nicknamed, because everything he touches turns to gold. Yesterday it was for a match-winning innings and a huge Bollywood-style ending when his big six clinched victory.
It was thanks also to Tendulkar for finally adding a World Cup winner's medal to his long list of batting records.
And thanks to the entire team for living up to their potential, coping with the pressure and winning cricket's biggest prize on home soil.