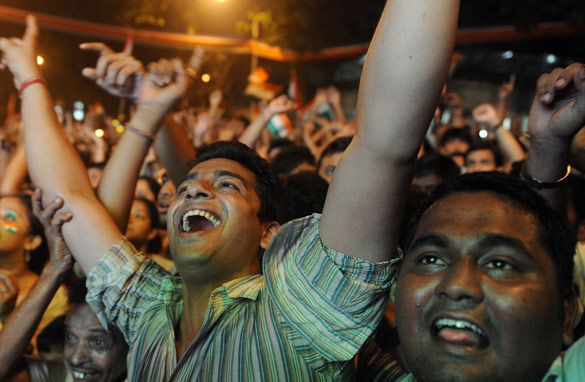 Indian fans celebrate after winning the Cricket World Cup on April 2.
India's island city of Mumbai is all about noise: a constant car-honking stream of vehicles and people. It was silenced for eight hours Saturday as the 2011 Cricket World Cup final was played, but then burst back into life to signal India's victory. Colorful explosions lit up the skyline as an astonishing number of fireworks were let off, continuing for an hour after the match.
Even after the fireworks had run out, ear-splitting firecrackers kept punctuating the gap between vehicles beeping and drums beating. We went out on to the streets to film near our hotel in Worli, south Mumbai. We saw mopeds buzzing around, mainly ridden by young men, bare-chested and faces painted, with the pillion passenger waving an India flag.