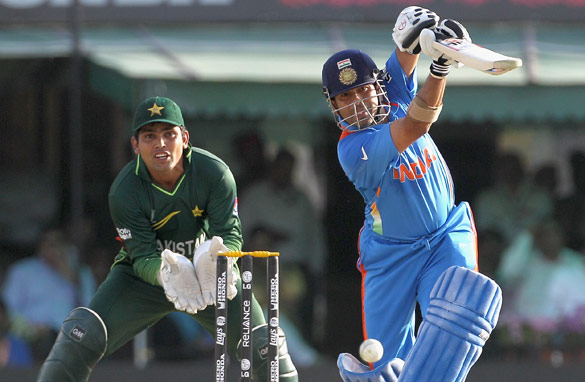 Indian batsman Sachin Tendulkar drives his team forward against rivals Pakistan.
Sometimes a sporting event is more than just a game. Sometimes the arena for competition is emblematic and symbolic of a greater reality, in which the twists and turns of a match carry a wider significance.
And so it was for the titanic clash between India and Pakistan in the semifinal of the cricket World Cup; a tie that needed no artificially created hype. Giants of the sport going head-to-head for a place in the final as two nations, both equally obsessed with the game, saw millions become engrossed with the drama unfolding on a circle of grass in Mohali.
And the celebratory spirit of the event was remarkable given the backdrop of recent relations between to the two Asian rivals. The uneasy neighbors have fought three wars since the blood-soaked partition of the subcontinent in 1947, and recent peace talks were shattered in November 2008 when ten gunmen attacked Mumbai, killing 164 people and wounding hundreds more.
India blamed Pakistan for harboring terrorists as political relationships disintegrated. And all seemed bleak until a game of cricket intervened.
Earlier this week India's prime minister used the semifinal showdown as a vehicle for diplomacy, inviting his Pakistani counterpart to watch the first match between the countries since "26/11" – which is how Indians refer to that deadly day.
Seemingly only cricket, often referred to as a "religion" or being "like God" in the parts of Mumbai I have visited, was enough to focus collective minds on what unites rather than divides.
And if cricket is a religion, it is easy to identify its gods. Local hero Sachin Tendulkar cleared the streets of his home city Mumbai as he closed in on a century in Mohali. When he was out before reaching three figures, you could hear a low rumble as a nation collectively groaned.
That would have included Akhilesh Chaturvedi, a patient at the Fortis hospital on the outskirts of the city. He brought forward his spine surgery so it wouldn't clash with the match, and he will have watched the semifinal from his bed as he recovers.
One of the official World Cup sponsors, Reliance, gave workers in their Infrastructure division the day off, while others simply left their offices early short before the afternoon start. Cinema chains, bars, clubs and restaurants were all showing the action – many charging for tickets to control demand.
And even in one of Asia's largest slums, Dharavi – featured in the movie "Slumdog Millionaire" – saw people crowding into whichever ram-shackle hut had a telly.
The poverty and deprivation visible in a place like Dharavi is often physically shocking. And yet, any concerns about food or sanitation were brushed to one side as India and Pakistan went head-to-head.
No doubt there were similar scenes of passion in Pakistan. Two nations, united by their love of cricket, no matter how distant the relationship between their respective governments.