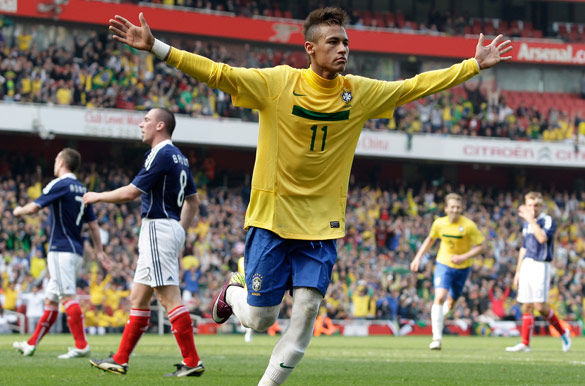 Brazil's Neymar scored a brace to help his country beat Scotland 2-0 in London on Sunday.
As I watched Brazil easily dismantle Scotland in London on Sunday, two things became apparent. The first: Neymar will soon become one of the best players on the planet. The second: the Selecao will not win anything, much less the next World Cup played on home soil, unless they find a top striker.
Let's start with Neymar. I have followed his career ever since he made his senior debut for Santos as a 17-year-old in 2009. He burst onto the scene with a deadly combination of dazzling skills and explosive pace. His ability to take defenders on and leave them in his wake quickly had most scouts around the world salivating.
He promised a second coming of Robinho, only with many more goals. So far, he has averaged a goal every two games for his club, and has netted an astounding 15 goals in 13 games for his country's U-17, U-20 and senior sides combined.
So what can we expect from Neymar? Well, in my opinion, it is just a matter of time before he moves to Europe. I expect him to be playing in Spain, England or Italy by the start of next season. Even though his inflated ego and fiery temperament have already got him in trouble with teammates and coaches at Santos, top European clubs will gamble on a player who seems to be settling down and slowly maturing into a star. If he bulks up a little and continues to learn the game, he could easily become one of the world's top 10 players in the next couple of years.
So, with a talent like Neymar blossoming just in time for the next World Cup, Brazilian fans should be feeling good about lifting the trophy on home soil in 2014, right? Well... not so fast. As good as he is, and as good as some of the other young creative players are, they lack a quality striker, and in my opinion, unless coach Mano Menezes finds one, the Samba Kings will struggle to challenge for honors in three years time.
I'll tell you why. Let's look back at the last few World Cups and the ones Brazil excelled in. In 1994, they had Romario and Bebeto. In 1998, they had Ronaldo. Four years later, the same man was at the center of their impressive run to the title in Asia.
What happened in the last two tournaments? They failed to reach the semifinals, and a big reason for that was the absence of a finisher. I will give you one more example of the case I am making. Back in 1982, as much flair and skill as Brazil had, they missed a player who could convert all the chances created by the likes Zico, Socrates and Falcao. Serginho was not nearly as good as most of his teammates.
Now I know what you're thinking. In 2006, Brazil had Ronaldo and Adriano and still got knocked out in the quarterfinals. Well, I would say that neither was close to being in good physical shape. Both men were shadows of their true selves. They made more of an impact for the names on their shirts than for the quality of play on the pitch.
So, how will this problem be solved? Well I don't see a lot of talented young Brazilian strikers out there right now. On Sunday, against Scotland, Menezes gave Leandro Damiao and Jonas a chance, but neither looked good enough.
The only solution will be asking Alexandro Pato or Nilmar to lead the line. Both players, who normally line up either on the wing or as an attacking midfielder will have to learn how to become a fox-in-the-box. They are both talented enough, the question is can they become poachers? Can they learn to lead the line instead of drifting into wide positions where they are operate for their clubs?
The answer is still unknown. If they can, Brazil could be hard to stop at the next World Cup. If they fail, there could be a lot of broken hearts in the South American nation in a few years time.