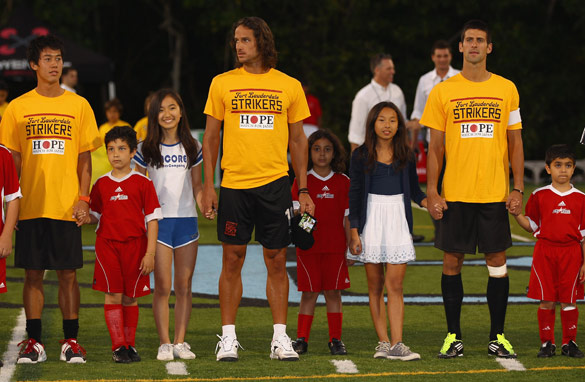 On a trip to the Miami Open, CNN's Candy Reid played football with top tennis stars in a charity game arranged by Novak Djokovic (right) in aid of Japan's quake and tsunami victims.
My trip to the Miami Open tennis tournament was supposed to be a 16-hour affair - but instead it turned into a two-day interview extravaganza with a massive cherry on top.
Monday March 21
4pm I'm in the office in Atlanta preparing for 'World Sport' which is an hour and a half away when I learn that some of the top male tennis players in the world are organizing a charity football match in Miami with all proceeds going to Japan. The match is on Thursday and I'm supposed to be leaving for Miami after my shift to interview Kim Clijsters before flying back late on Tuesday. But because of the special nature of the football game, I've been given the green light to cover it too, so I quickly organize child-care for my children, change my flight and extend my hotel booking.
Tuesday March 22
1am I've arrived at the Epic Hotel in Miami – it's one of the best places I've ever stayed in and now I'm going to be here for three nights rather than one! Winner!
8am Got a few hours sleep and now it's down to the lobby to meet 'Open Court' producer Heidi Berger. She loves tennis just as much as I do, so I know this is going to be fun! Our cameraman Jerry Simonson rolls up in the SUV and we're off to the tennis.
10am Time for our sit-down interview with four-time grand slam champion Kim. I've spoken to her several times before and she's always fantastic. I continue to be amazed by how someone so nice can be such a good player too. There's no diva in her whatsoever. For most of the 20 minutes we discuss children! I have two, she has one, but she reveals she'd like to have 4. I'm sticking with 2!
11am Off to interview Sam Stosur, Li Na and Vera Zvonareva. We talk about their form and I also ask them about new men's world No. 2 Novak Djokovic, who is currently on a 20-match winning streak.
There's also time to catch-up with Victoria Azarenka, who I spent a day with in Florida in December. She's a great girl and wise beyond her years - like so many professional tennis players!
1pm I've got a free hour now so it gives me a chance to mosey round the courts to see who's practicing before grabbing a bite to eat. Afterwards it's back to the media centre to chat with tennis expert Bud Collins - arguably the most knowledgeable man in the sport -  about the past and present.
2:30pm This is what I've been waiting for - the trip to the  Miami Seaquarium to watch and talk to Thomas Berdych, Mardy Fish, Ivan Ljubicic and Potito Starace who are all going swimming with the dolphins. It's so hot here I wish I was in the water too!
5pm We're back at the courts and 40-year-old Kimiko Date-Krumm is waiting for us. We requested an interview with her since she's Japan's number one player and wanted to get her thoughts on the situation back home. I also surprise her by telling her I watched her play in England when I was 12-years old! She remembers the tournaments I mention! It's a great moment.
7pm Time to go back to the hotel and plan Tuesday's schedule. It's going to be another busy and very fun day. I've still got some shopping to do too - a pair of football boots is at the top of the list!
Wednesday March 23
8:30am It's time to meet Heidi in the hotel lobby and talk about the day ahead.
12:30pm After a morning of watching tennis, talking to various people, and filming practices (Jerry's in charge of that), it's time to interview up-and-coming Alexandr Dolgopolov and his coach Jack Reader. They are hilarious and unbelievably relaxed despite the Ukrainian's increasing reputation. He tells me that he and Xavier Malisse only decided to play together at Indian Wells 15 minutes before the deadline. They ended up winning the title, beating the Bryan brothers and the Swiss duo of Federer and Wawrinka along the way!
2:30pm Next up, a sit down interview with Thomas Berdych, who reveals he's a Manchester United fan –  I enjoy telling him I support Liverpool, and recently went to Anfield to see the 3-1 win! Of course we also talk tennis.
3pm More interviews. Now it's Milos Raonic who's the youngest male player inside the top 50. We discuss his meteoric rise up the rankings and I ask him whether he's going to do a 'Greg Rusedski' and become British - he laughs and says "no!"
5pm We have a date with last week's Indian Wells finalist Marion Bartoli and her father Walter, who is also her coach. She's practicing at another site so it's into the car and off we go. The French pair give us lots of great training footage, plus a 20 minute interview on how and why they work so well together. Practice is intense but the chat afterwards couldn't be more relaxed. The contrast is extreme!
6:15pm I pop into an on-site bathroom and change into my football gear. I'm ready for the big game.
7pm We arrive at Ransom Everglades High School a little late. The traffic is terrible. It seems everyone is heading to Novak Djokovic's "Hope Match for Japan", which he and his team hastily arranged the week before. I'm given my yellow shirt and feel slightly foolish lining up on the pitch, miked up, alongside some of the world's top male tennis players, including Djokovic, Andy Murray, Jo-Wilfred Tsonga and Fernando Verdasco. We are playing the Fort Lauderdale Strikers, a professional team and I'm told the tennis players really want to win. This is not going to be a 'kick and giggle' match. Gulp!
Novak is the captain and his first-choice team plays the opening half. Japanese star Kei Nishikori was the inspiration behind the match and I speak to him on-camera at the break. He's not going to play the second half but the majority of the others surprisingly do stay on, perhaps forgetting they're really in Miami to play tennis. They are definitely competitive! The second half begins and sees Marcos Baghdatis score a penalty after a slightly dubious decision (thanks ref!) and then I'm on. I replace my fellow Brit Murray up front and though hardly touch the ball, do quite a bit of running. The professionals, as you can imagine, have the lions-share of possession. But Baghdatis is on-form and his long-range shot is only parried by the goalkeeper. Murray, now back on (though not for me), knocks in the rebound and we celebrate a second goal. The game ends with the Strikers winning 5-2. My main contribution was getting whacked in the chest by a rebound! Didn't feel a thing!
At the final whistle, it's time to get the tennis players reaction. We speak to Melzer, Baghdatis and of course Captain Djokovic about the match and the occasion. It's hard to believe that this was organized less than a week ago. It's a fabulous event and I feel privileged to have been a part of it. What my teammates thought of my inclusion, I can only imagine, but all were incredibly friendly and welcoming (at least to my face!)
8:30pm Heading back to shower and dress ahead of the dinner event which is being held at the hotel opposite mine. Rafa Nadal turns up much to everyone's delight. He didn't play in the game, because of an already scheduled ATP meeting, but did appear for the pre-match photos. Novak says his team missed their best player.
By this time, Heidi and Jerry are on their way to the CNN bureau in Miami to send the football footage back to our editor Elliot Dane in Atlanta. He's going to put it all together ahead of the live 6am show.
1am It's back to the hotel to sleep before my early flight home. What began as a supposedly brief stop in Miami turned out to be a thrilling, fulfilling and unexpected trip which I will certainly remember for the rest of my life!