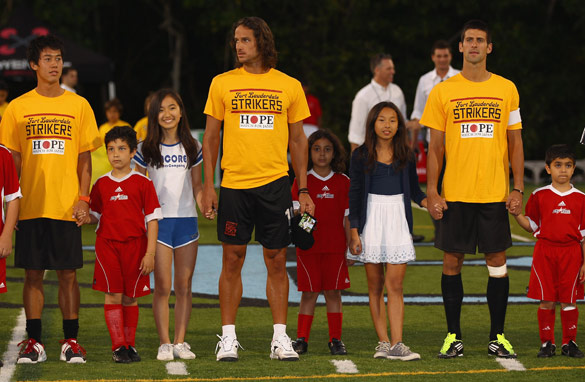 On a trip to the Miami Open, CNN's Candy Reid played football with top tennis stars in a charity game arranged by Novak Djokovic (right) in aid of Japan's quake and tsunami victims.
My trip to the Miami Open tennis tournament was supposed to be a 16-hour affair - but instead it turned into a two-day interview extravaganza with a massive cherry on top.
Monday March 21
4pm I'm in the office in Atlanta preparing for 'World Sport' which is an hour and a half away when I learn that some of the top male tennis players in the world are organizing a charity football match in Miami with all proceeds going to Japan. The match is on Thursday and I'm supposed to be leaving for Miami after my shift to interview Kim Clijsters before flying back late on Tuesday. But because of the special nature of the football game, I've been given the green light to cover it too, so I quickly organize child-care for my children, change my flight and extend my hotel booking.