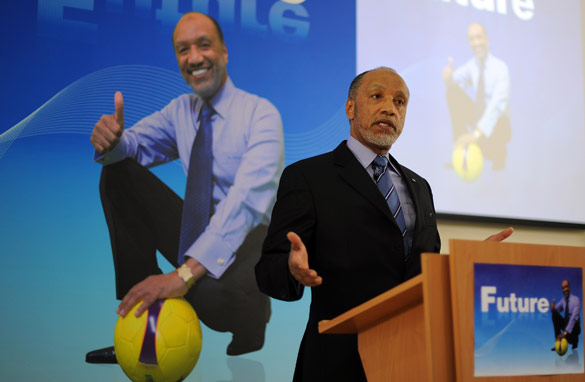 FIFA presidential candidate Mohammad Bin Hammam has been head of the Asian Football Confederation for 13 years.
He wants to reform FIFA, make it "transparent"; bring back "trust" and "credibility" to world football's governing body. But after meeting presidential candidate Mohamed Bin Hammam, it is hard to say if he can and will fulfill those headline-grabbing pledges.
There is no doubt he cuts an impressive figure. Often in traditional Arab robes, Bin Hammam wore a smart suit for our interview in Paris on Monday. Weary from a day of journalistic interrogation, the head of Asia's Football Confederation (AFC) nonetheless greeted me warmly and was as charming as most successful sports administrators tend to be.
In my experience, those who run global sporting organizations are adept at flashing smiles and distributing handshakes, while suggesting enough inner steel to make you phrase your questions carefully.
Sepp Blatter's presidential rival was in France to lobby support at a UEFA Congress meeting and there are already reports of a warm reception from Michel Platini. If the head of European football backs Bin Hammam now, it could pave the way for Platini to go for FIFA's top job in 2015.
That sort of arrangement may feel like more of the same to football fans, fed up with FIFA's arcane leadership, however, it does suggest that Bin Hammam is at least serious about one of his election pledges: to limit the length of a presidents' term of office.
He says he has implemented just such a rule in his own AFC, and will stand down in 2015. Although it should be noted that, by then, he will - if successful - have been in charge for 13 years, the same length of time as Sepp Blatter's current reign at FIFA.
The other major question mark, for those who doubt Bin Hammam is the right man to change FIFA, hangs over the successful, but controversial, 2022 World Cup bid by his home country of Qatar.
The Doha resident insisted that they had followed FIFA rules and regulations but admitted the public were skeptical about the process and that is why he wanted to make it more transparent in future.
In the same way as an experienced politician, Bin Hammam returned to that word "transparency" time and again. He admitted the public's trust in FIFA has been lost, along with the organization's credibility.
However, he stopped short in blaming Blatter personally. Instead, Bin Hammam claimed the FIFA president had lost his impetus after years of defending the organization and it is simply time for a change.
The Qatari admits he has not spoken to Blatter since announcing he will stand against him and, although he pleaded for a friendly fight, the battle for FIFA's presidency could grow increasingly bitter.