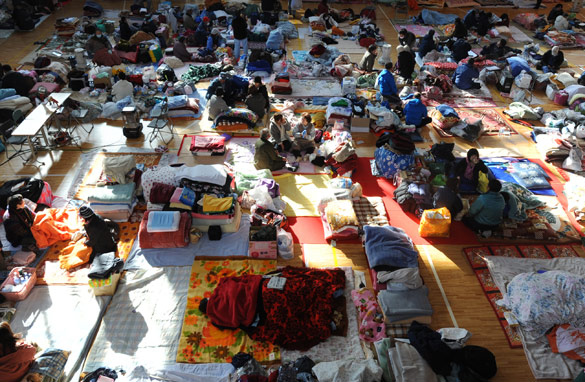 Sport has already played a part in Japan's recovery, with people taking shelter in local gymnasiums.
The world of sport has done as much as it can to show its support for the victims of the Japanese earthquake.
Of course, there is only so much the sympathetic words of athletes like American tennis star Andy Roddick can do. Respectful gestures, like the wearing of black armbands or the staging of a minute's silence, are symbolic for the victims but offer no solution.
But then athletes, like the rest of us, are in an impossible situation when responding to national tragedies.
"It's very difficult to put yourself in the place of a person who has lost everything and is looking for their loved ones amid all that debris," alpine skier Didier Cuche said recently.
That said, while it's tough for athletes to empathize they can obviously sympathize, and sport is a past master in matching kind words with good deeds.
And make no mistake; sport does have a role to play in assisting with Japan's recovery. Clearly, there's the fund-raising aspect. We've already heard of a number of sporting initiatives that will generate cash and maintain awareness of Japan's plight.
But there's also the less tangible way in which sport can help, because in most countries sport is about much more than wins and losses, it is part of the culture.
Indeed, last week, its healing power was noted by the general secretary of the Japanese Football Association, Kozo Tashima, in relation to some upcoming friendlies that he had hoped would go ahead.
"We need to send a message to the rest of the world," Tashima said. "We need to inform them that Tokyo is functional, that the city is okay and order is being restored.
"The entire Japanese football community needs to help the country get back on its feet again. Not just soccer, but I think the whole sports world in Japan needs to step up for the nation."
And step up it will, because that is what sport does. It is of the people, for the people. And while, out of necessity, it gets marginalized on the occasions when a major catastrophe strikes, its impact is only dormant.
Japan will rise again and sport will be an agents of that renaissance. It is a moral-booster, not peripheral to the culture but an integral part of it, and one of the true barometers of a society in good health.