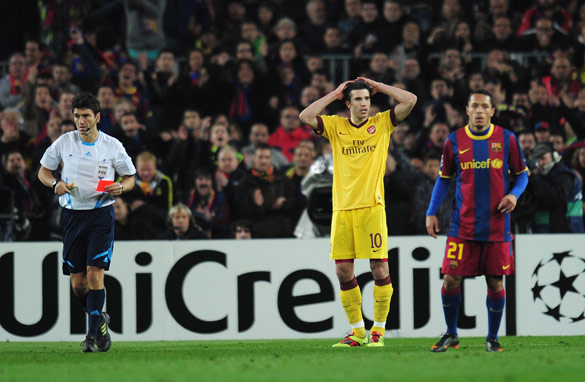 Arsene Wenger's anguish was caused by Robin Van Persie's sending-off against Barcelona.
He's a sore loser but a superb manager, and Arsenal boss Arsene Wenger was right about one thing: Referee Massimo Busacca did "kill" Tuesday night's Champions League Round of 16 match at the Camp Nou stadium.
Although Arsenal's conquerors Barcelona were magnificent - statistically, the better side by a long way - the point about football, in fact sport in general, is you just never know what will happen.
Wenger's anguish was caused by Robin Van Persie's sending-off. He was given a second yellow card for kicking the ball after the referee had blown his whistle. Only, it wasn't a petulant act; Van Persie was shooting at goal just one second after the offside flag was raised.

So indulge me in a quick game of what if? What if Van Persie had stayed on the pitch? The score was 1-1 at that stage. Would the extra man have stopped Barcelona from making it 3-1? And what if Van Persie, not substitute Nicklas Bendtner, had received Jack Wilshere's late pass? The Dutch striker's record suggests he would have done better than Bendtner; he might even have scored.
Even at 3-2 down, Arsenal would be heading for the quarterfinals on the away goals rule.
Our game of "what if" is slightly unfair on Barcelona. Forget the phrase Catalan giants, they were colossal. Barca made Arsenal look like plucky, non-league underdogs in an old-fashioned English FA Cup tie. Pep Guardiola's side enjoyed a staggering 69% of the possession. They had 738 successful passes and 19 goal attempts. Arsenal completed just 199 passes and had no shots.
The London club's only goal was an accidental header from Barcelona's makeshift defender Sergio Busquets.
However, this was a cup match. It may be called the UEFA Champions League but the tournament only really comes to life during the knockout phase. While it's rare for smaller clubs to be crowned European champions, upsets can happen.
When you see Barcelona perform as well as they did against Arsenal, you wonder how they don't win the competition every year. Yet they didn't even reach the final last season, out-fought and out-thought by Jose Mourinho's Inter Milan.
Most observers will brush aside Van Persie's red card, saying "the better team won" – and they did. However, Busacca's error denied us all a fascinating half an hour of cup football. Watching skilful Arsenal scrap like novices against sublime Barcelona would have been great fun.