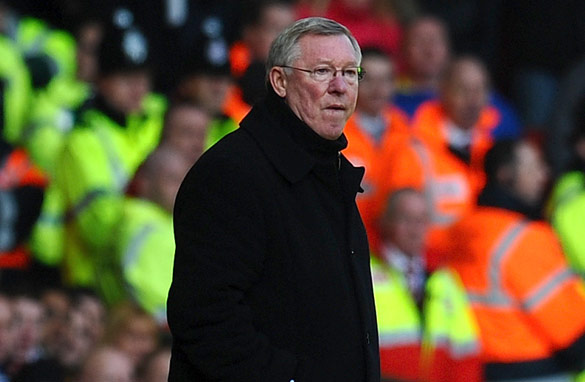 Alex Ferguson has seen his previously unbeaten Manchester United team slip to three defeats in their last five games.
What a difference a month makes. When Manchester United lined up on February 5 to take on Wolves, they had not lost a single Premier League game all season and were marching towards another league title.
Fast forward four weeks, and they have now tasted defeat no less than three times in five games, and their lead at the top of the table has shrunk significantly.
So what has gone wrong at United, and will they be able to right the ship in time to sail to a 19th league title?
Let's start by tackling the first question. In my mind, there are a couple of reasons why United have struggled to maintain their winning ways. The absence of Rio Ferdinand is the most important one. It is no coincidence that their slump began when the defensive stalwart picked up his latest injury. He is indispensable in the line-up, not only for his skills but mostly for his leadership. When Ferdinand is on the sidelines, I often notice the absence of a voice who directs Alex Ferguson's troops on the field.
The defeat at Liverpool would not have happened if Ferdinand and Nemanja Vidic would have played. As impressive as Luis Suarez's work inside the box was for Liverpool's first goal, the Uruguayan forward would never have been able to pull off that move with United's top defensive unit around. Ferdinand or Vidic would have tackled him. There is no doubt about it. The same can be said about Liverpool's other two goals. Predatory strikes from the valiant Dirk Kuyt, but he would surely not have enjoyed the space given to him by Chris Smalling and Wes Brown had the big boys been around.
So all Ferguson can do is hope Ferdinand comes back soon. The 32-year-old central defender should return on March 12 for United's FA Cup clash with Arsenal at Old Trafford.
Has Ferdinand's absence been the only reason why United have struggled? No. I am also going to point some fingers at United's average midfield.
If you look around most of the top teams in Europe, they all have at least one defensive midfielder who protects the back four. They have someone who can tackle and who drops back when the full backs attack, adding balance in the middle of the park.
I am talking about players like Sergio Busquets, Sami Khedira, Esteban Cambiasso or even Alex Song. Manchester United do not have anyone like that. Their only player with those characteristics, Owen Hargreaves, has been injured for the past three years.
If there is one thing Ferguson needs to do this summer, it is buy a player who fits this mould. Michael Carrick, Darren Fletcher, or even Anderson are all average players who have reached their potential and are not good enough to play for one of the world's top teams. Good passers? Yes. Decent tacklers? Maybe. But none of them are great at anything in particular, and they are not going to improve in the future. It is time for Ferguson to shuffle the pack.
While United have struggled recently, and in my opinion need to renew their squad, they should still be good enough to win the title this season. This is mostly because the quality of the competition is not fantastic.
In previous seasons, maybe they would have struggled to hold on, but this year I do not see Arsenal or Chelsea being strong or consistent enough to overtake the current leaders. They may come close, and Arsenal can draw level with United on points if they win their game in hand, but I just don't think the Gunners have the necessary weapons to shoot down the leaders.